The scene is set within the treasured gardens of the Palace of Versailles, a place that not only portrays its beauty to us today but holds a symbol of political history to it's people with the rein of Louis XVI during the 18th Century. Like ants scattering in an ant farm, models were on the move to one of Largefeld's so-hot-right-now musicians, Azealia Banks through the maze grounds and flowing fountains of Versaille Palace.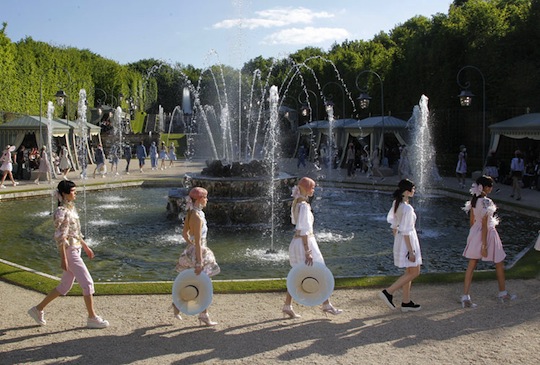 Right from the get go, first face Cara Delevingne wowed me in her minimal pastel blue lampshade-skirt dress with an ultra sharp water-colour dipped hair style, a 2012 version of Mary Antoinette's make-up and kissed with a CC beauty mark. Fabulousness was to follow, one after the other a new look would top the last in the historic and modern mish mash collection that Karl created. Candy pastels followed by chombre denim, bell sleeves through to desirable bouclé blazers and tweeds that I lust to have in my wardrobe. Awkward looking length skirts referencing the eary 90's were only to be outdone by a wonderful feminine mini bringing to life a time that was. Flat forms were coming out thick and fast and although I find them quite blah, I will certainly be purchasing a pair because I suppose that's what Karl would do?

With a couple of male cameos to boot, I did notice an absence of the usual suspects such as Kershaw, Polly, Erichsen and Frackowiak, never the less all the frou-frou, Rococo reminiscence, floral details and pastels through to a golden metallic colour pallet could not have been more perfect for us, the fashion lover awaiting some excitement to consume us for 2013. Basically, if all this is way over the top or too much for you, well I suggest you just admire the exquisite blazers and bejeweled chokers and I cant even tell you how obsessed I am with the dust pink, floppy hat number! Oh, Karl, you had me at Mary Antoinette!
My favourite looks thanks to Style.com & Vogue UK