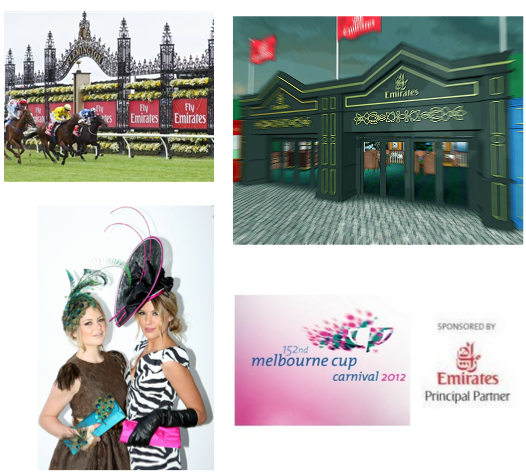 As you know, my excitement for the Melbourne Spring Racing Carnival has already taken over me with my outfit planning and working together with my Dubai/Melbourne based milliner Karen Hamilton on the perfect headpieces for my looks.
This week Emirates announced that Dublin would be the theme for its renowned Birdcage marquee at this year's Melbourne Cup Carnival. This marquee, for those of you who are not familiar with the Melbourne Cup Carnival, is the most desired invite in town during the first week in November.
Inspired by famous landmarks of Ireland's capital, the Principal Partner of the Emirates Melbourne Cup will take guests on a cultural journey. The exterior will capture the charm of a typical Dublin high street with its iconic shop fronts, while inside guests will be steeped in history, with the main section of the marquee based on the Long Room from Trinity College, one of the great universities of the world.
The birthplace of many prominent literary figures, including influential writers and playwrights such as William Butler Yeats, George Bernard Shaw and Oscar Wilde, the marquee design will include authentic bookcases in a nod to Dublin's rich literary history.
The menu will feature classic Irish dishes with a modern twist, while Irish-themed cocktails will be served as guests take in the unparalleled trackside views.
As one of the 6 million Australians having an Irish heritage (OK not me, I married into an Irish family, the Dempsey's known as the O'Dempsey's in their home land) Emirates is expecting great interest from our Irish visitors because of the great connection that Australia and Ireland share (cue the girls to chant Collin Farrell's name! If only!) My inlaws actually visit Dublin each year on their annual trip to the Royal Dublin Society Horse Show. Had I not fallen pregnant last year I would have gone too, to witness the festive culture, the gorgeous greenery and its friendly hospitality that I continue to hear about. I am sure I will attend the next trip with my little man too as Emirates introduced its new one-stop flight from Melbourne to Dublin earlier this year!
I-rish you a fabulous Melbourne Cup Carnival, to be sure to be sure!