I wanted to do something different on the blog for Marks and Spencer today, although it is a pretty easy and basic styling tip, I think it is nice to do a refresher for you to know you can simply get a day to night look with a simple swap of two items.
Here, I found some really good fitting jeans. They are ultra tight which I like (although I am currently looking for the perfect straight leg/mum fit) and they are high waisted, which is a MUST for me to suck in my mama tummy that will forever have excess skin. You can shop these jeans HERE $37
For the day look, I found a really simple top that I thought I would wear often. I find myself always wearing a white t-shirt but a stripe long sleeve (HERE $17)is a great wardrobe basic, it's kind of Coco Chanel style that she would wear. I always wear sneakers- these have actually been replacing my Gucci sneakers (shop them HERE) so I am stable on my feet all day getting stuff done.
To take these jeans from day to night, I found a great sequin top (HERE $94) which I love because it is a statement top but it isn't too over the top and as it is sequins, you don't need to fuss about any accessories as the top is enough. Pop on some heels and you are ready to go out. You can even keep the top and heels in your car for a quick change (I literally changed on the street for these photos!).
It's all about finding the right pieces that will live in your wardrobe for a long time (basics) and these top and pant combos (So, the two tops plus the pants) come to less than $150 all together.
Shop my looks
Jeans HERE / Sequin top HERE /  Striped Top HERE / Sneakers HERE
I found four more great basic tops for the day and four for a dressier look, below.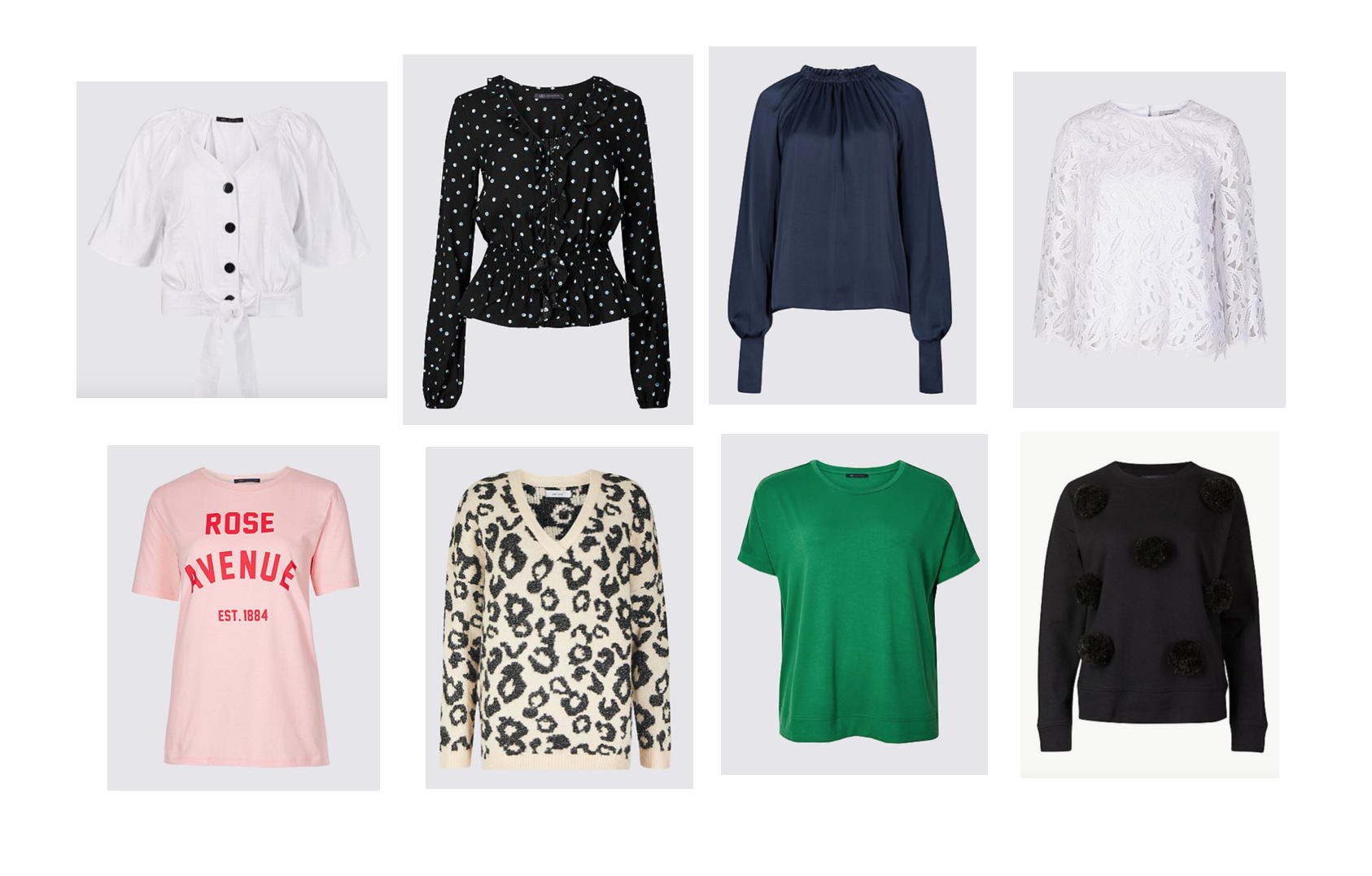 White Blouse HERE Spot Blouse HERE Navy Blouse HERE Lace Top HERE
Casual Pink Tee HERE  Leopard Sweater HERE Green Tee HERE  Black Sweater HERE 
Oh and while I have you, if you haven't seen how cute the M&S kids Halloween costumes are, well have a look as Aston's below! They have a lot more for girls and boys xxx (pirate costume HERE)