Planning a big party isn't my thing, my thing is more of a "come for lunch, I'll make a lasagne and some salads, Josh will be on the bbq and I will hire a jumping castle for the kids". For Aston and Will's baptisms, we went to an Italian restaurant near the church for lunch and all I had to do was rock up, host and leave. The thing is, that was perfect, until Will grew up and decided to become the kind of kid that likes to run out doors and onto roads. With this in mind and the fact we couldn't find a restaurant that was on a second level close to the church, we decided to host Freddies baptism lunch at home.
We made the decision to host it at home, we had the invites made and there was no turning back. This party had to be two things: 1. A step above what I would normally do and 2. On some sort of budget as we are doing some big things this year that includes a holiday and a renovation.
The challenge for me was finding the time to organise the event and co-ordinte it as well as make decisions on things. Josh is basically hopeless with this stuff so it was all on me and on the day of the event, he may as well had been a guest as he was surprised and impressed with what I pulled off and had no clue what I had organised.
I made a list of things I had to organise and spent a day making phone calls and emails booking everything in. This included: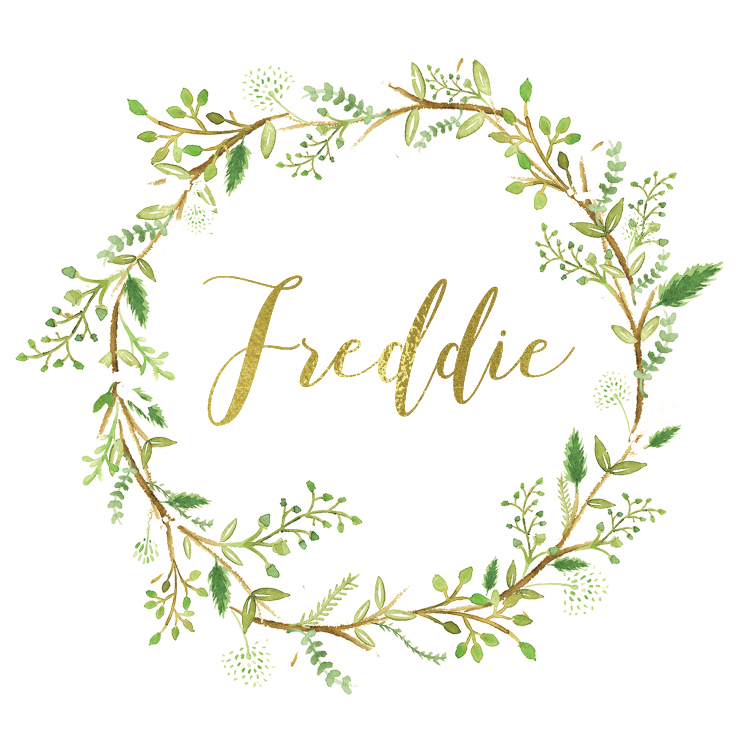 The invites: LoveJK
This is where I started, because I had to get them out ASAP. I had LoveJK design a few drafts for me, with no particular theme, I left it up to her to guide me. She came back to me with a stunning wreath green, white and gold foil invite that was not too churchy, not too baby but just enough of both and then some. I fell in love with it straight away and then this was the key to my theme.
Our guest list:
Consisted of the usual suspects, our family and closest friends which ended up being a maximum of about 40 people including children all up. In hindsight, I do wish I extended the invite list but I didn't know if I was going to successfully pull this party off as I had never organised a 'next level home party' with catering/marquee etc and I didn't want to over-invite and then come across issues with not enough food or space or anything. If anything went wrong, well, I wouldn't had felt so bad with this bunch of friends who have known me forever and wouldn't mind if I had to order some pizza, drink out of plastic cups or huddle up inside if the weather turned on us.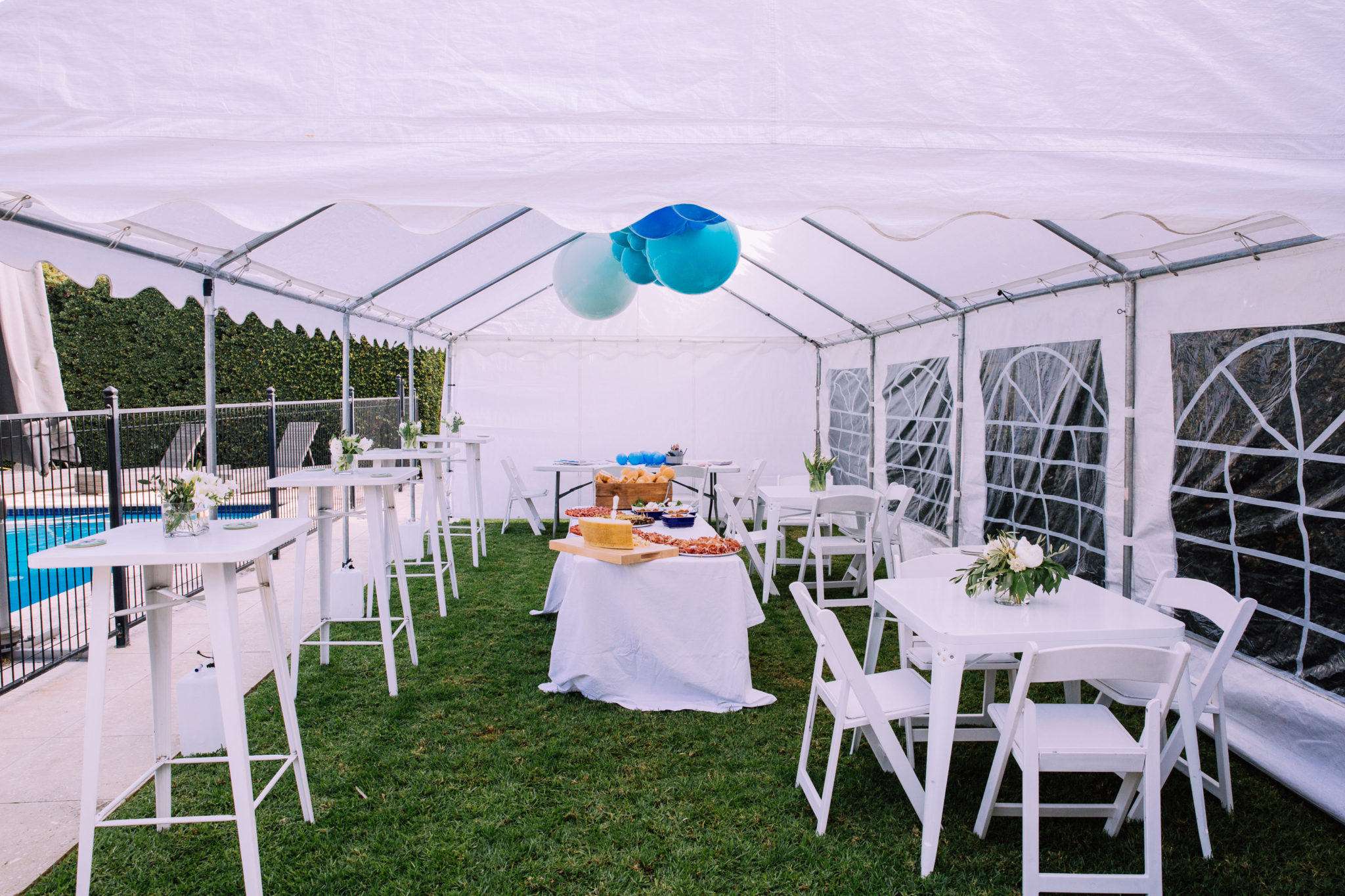 A marquee: Marquee Hire Melbourne
I found their price was better compared to others and they have some lovely marquees with arched window designs. This was the most expensive thing I had to hire but as it was May, I knew I needed to have shelter outside. As it turned out, the weather was stunning and it was nice shade from the harsh sun in me West facing backyard.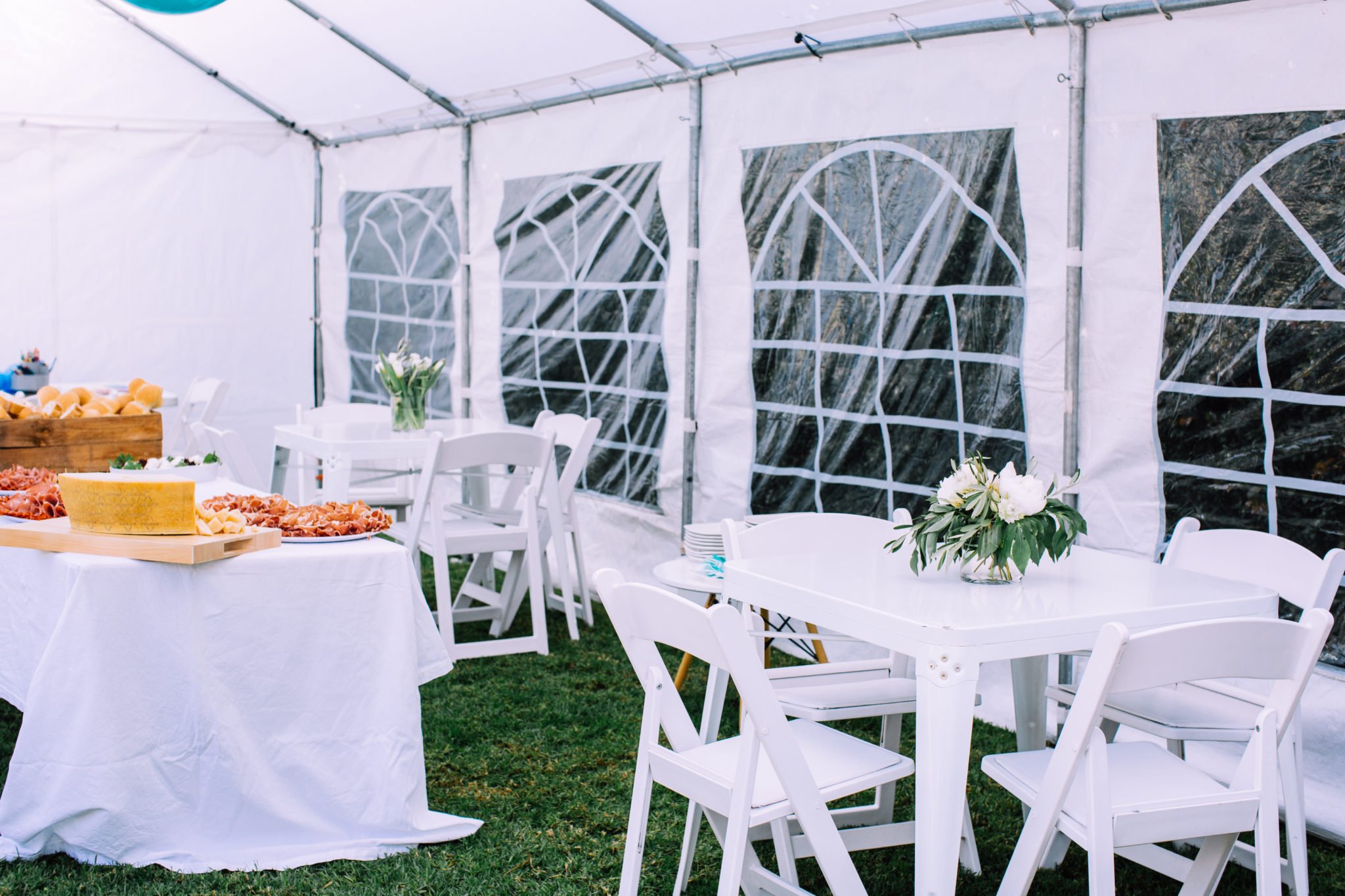 Hire items: Waverley Party Hire
I decided I wanted to be a bit shmancy and hire crockery, cutlery and glassware. I should have hired double the amount of glassware now that I know but luckily I had some of my own to use. I hired tall bar tables for people to lean on and eat from, low tables with seating for those that have children or for my grandparents. Two heaters that were not used but if it was cold would have come in handy. A trestle table for the grazing food table and for the children activities.

Catering: Just Italy
I decided I wanted the food theme to be Italian, just like the other baptisms. I had heard about Just Italy from some friends who told me it was the most authentic Italian food "just like-a-nonna-useda-make". Basically thats all they had to say before I picked up the phone to book it in. We had the option to have the food delivered (As they do uber eats too) or to have the chef and staff here to give more atmosphere and to cook in my kitchen, I thought this would be a great 'next level party touch'. Now, you must know, I had never eaten the Just Italy food before the day of the baptism, so I was praying it was as good as I have been told. Plus, I ordered lasagne and gnocchi on the menu and I am a great lasagne cook and I am a gnocchi connoisseur and I am pleased to say that one taste of that bloody gnocchi and if only I was alone, I would have fallen on me knees, arms in the air praising the Lord for letting such gnocchi enter my life. Never have I EVER had potato gnocchi as good as this day. My guests were loving it too, the lasagne was absolutely amazing and the antipasto grazing table, that the guests enjoyed as they entered the party was all delicious and perfect. Everyone was full, everyone was happy and I was excited for some left overs. They also made pizza for those who preferred.
NOTE- The caterers where at my house cooking and preparing whilst we were at the church, so when the first guests arrived, they walked out into the marquee to the grazing table.

Dessert: Fleischer Cakes
My absolutely local favourite Italian Pastricceria in Malvern, Fleischer, just had to do my dessert table. I have been obsessed with them since I first tried their chocolate eclairs and one time on my way home from the Portsea Polo, all I wanted was a Fleischer eclair, so I called them up at around 5pm on a Saturday to make sure they would be open and I made a pit stop there to get my eclair fix before going home. True story! The amazing desserts were as delicious as they looked and included some of my all time Italian favourites such as cannoli, crostoli and almond biscuits. But, the absolute hero and best one I have ever eating in my life was the croquembouche- OMG, don't get me started!
I set this table up, a little bit rustic as I don't really love the polished dessert table look, most of them you find are colour co-ordinated and a whole lot of food dye but this, was eatable, enjoyable and all hand made for us the day of or day before.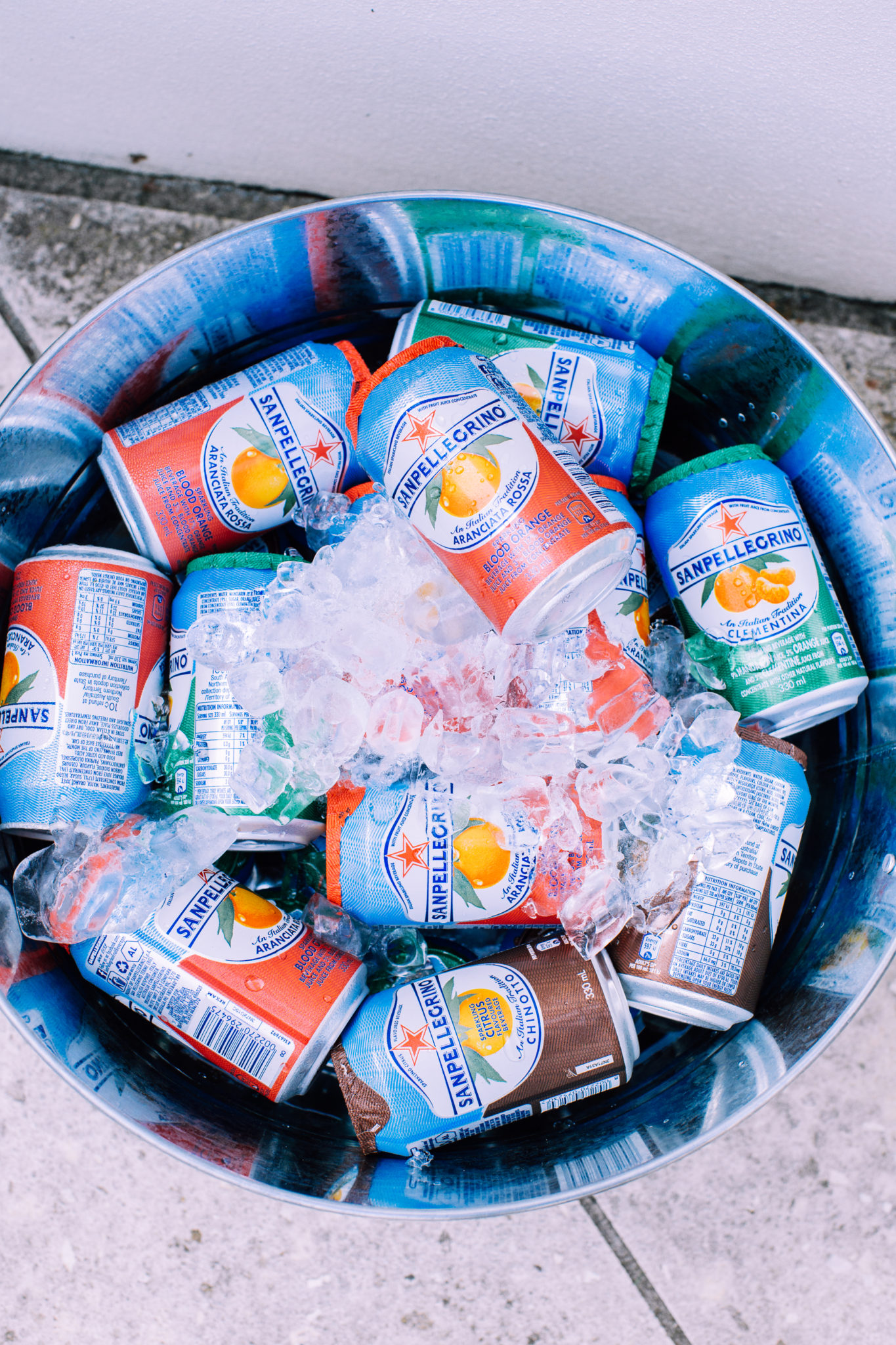 Drinks: San Pellegrino and Alcohol
This is Josh's only job, to provide alcohol and make sure we have ice. I organised some cartons of the San Pellegrino (Again, Italian theme) from Costco. I bought the ice buckets from Kmart.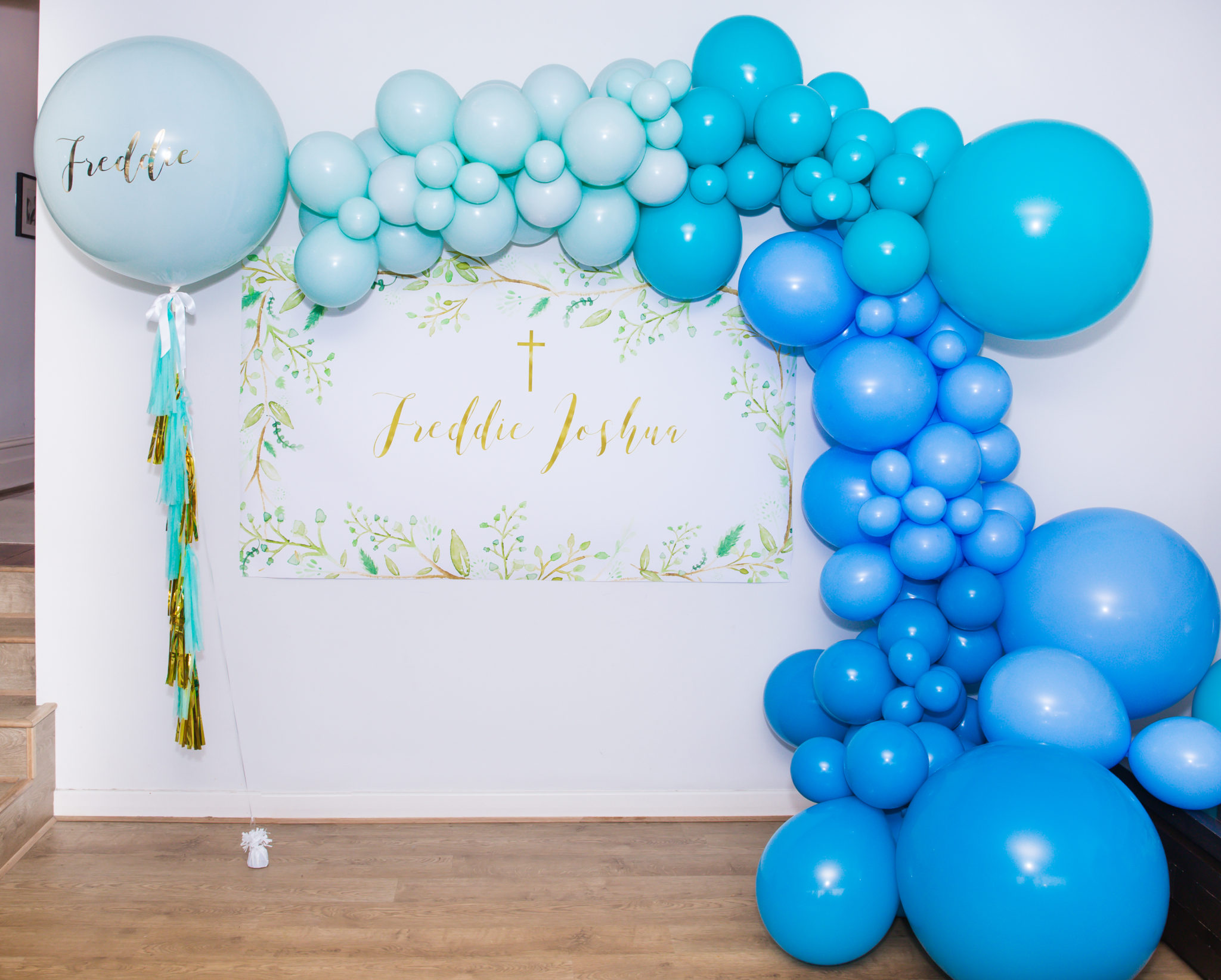 Decorations: State of Confetti and Love JK
I wanted a little bit of wow factor and State of Confetti knew just what to do, I must add in that they are a new business and they deserve all the success in the world because they were the most heavenly people to deal with and you can just see how passionate they are in making your day special. The balloons added colour and depth without being too over the top and in your face every where you turned. The main feature wall was chosen as I know that is where the best light for photos is and the team at State of Confetti created a blue faded balloon masterpiece around the Love JK banner with Freddie's name on it. This came together as the perfect photo wall.
The balloons were also featured down the middle of the marquee roof and above the dessert table (hiding my air conditioner).
Love  JK not only made the invites, the banner and as you will see below, the tags on the thank you biscuits, they also made an Italian tile runner that was underneath the desserts.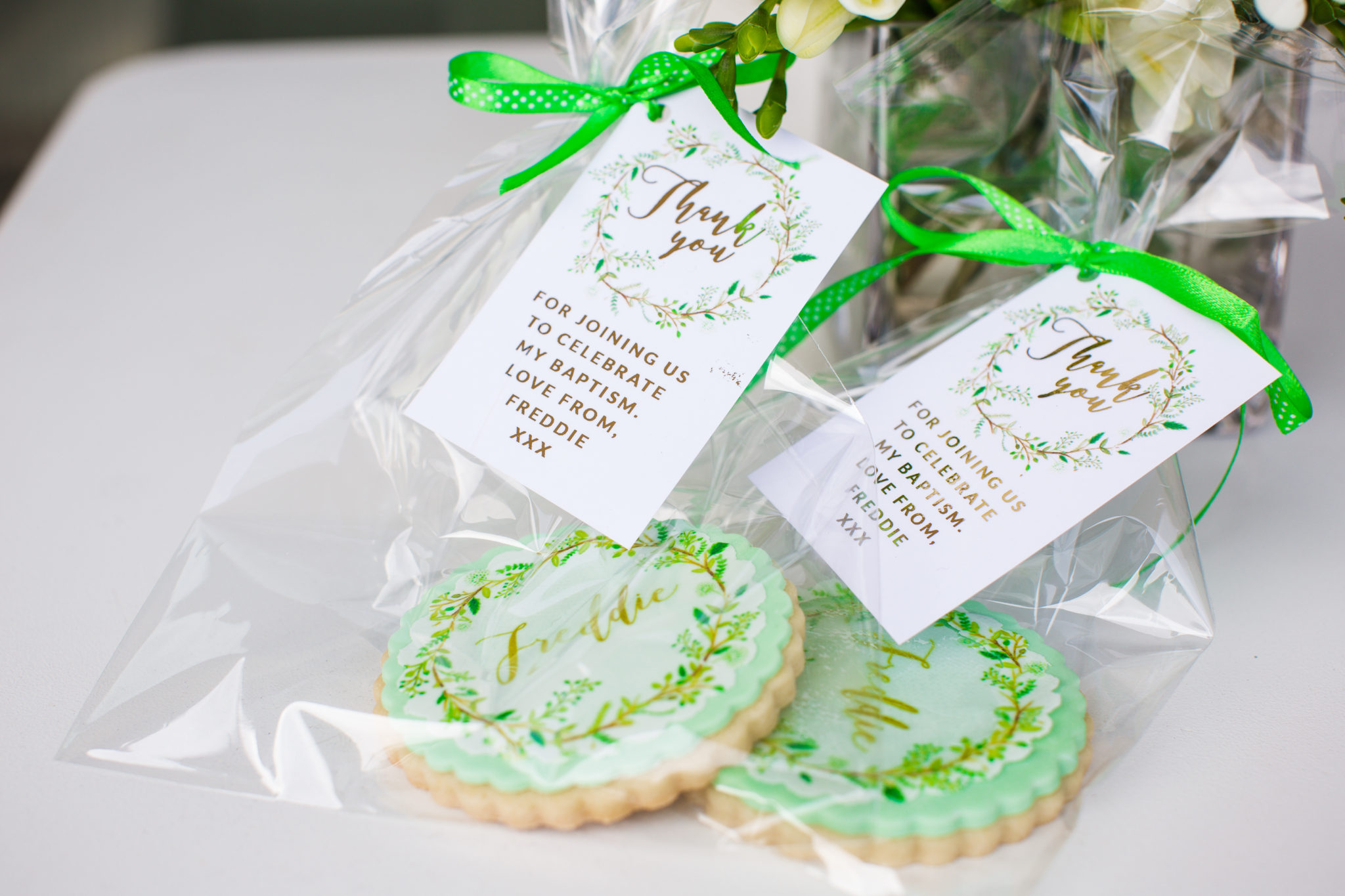 Cookies: My mum
Mum is a nifty baker, she makes some beautiful cakes and I asked her to make the take home cookies for us. They matched the invites which was a nice way to tie it all together from the invitation to the take home.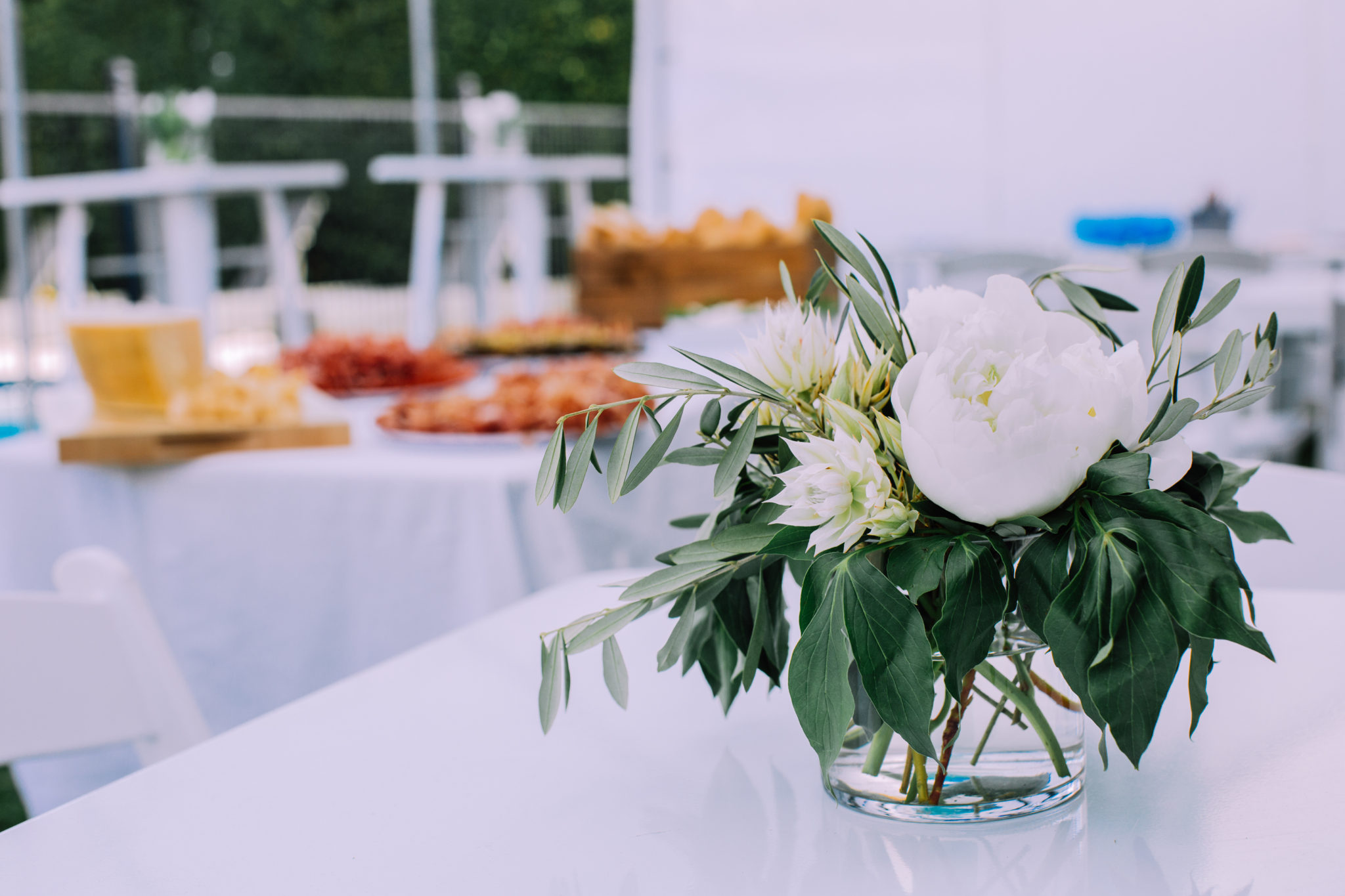 Flowers: Bespoke Botanics
The beautiful team at Bespoke Botanics put together the floral decorations. I wanted it to be simple, yet enough and they did the most lovely job. Every table had a vase and arrangement on it and the dessert table and drinks table had some olive branches to add an extra feature.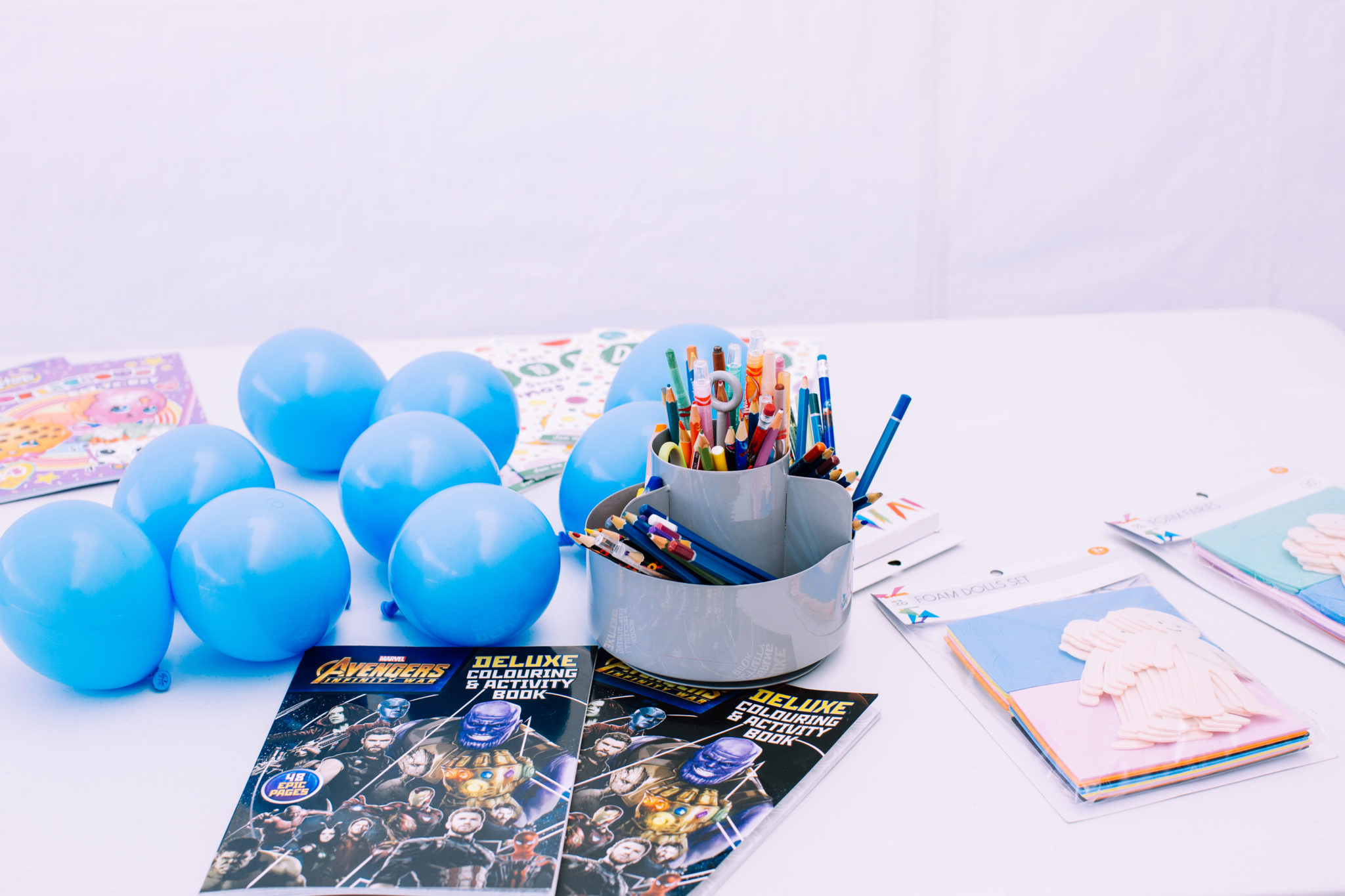 Kids entertainment: Kmart and Jumping Castle Hire
I set asside a trestle table for the kids activities. I went to Kmart and bought lots of colouring in books, pencils and foam doll sets. I also hired a jumping castle for kids like my son Will, who would never sit still and draw.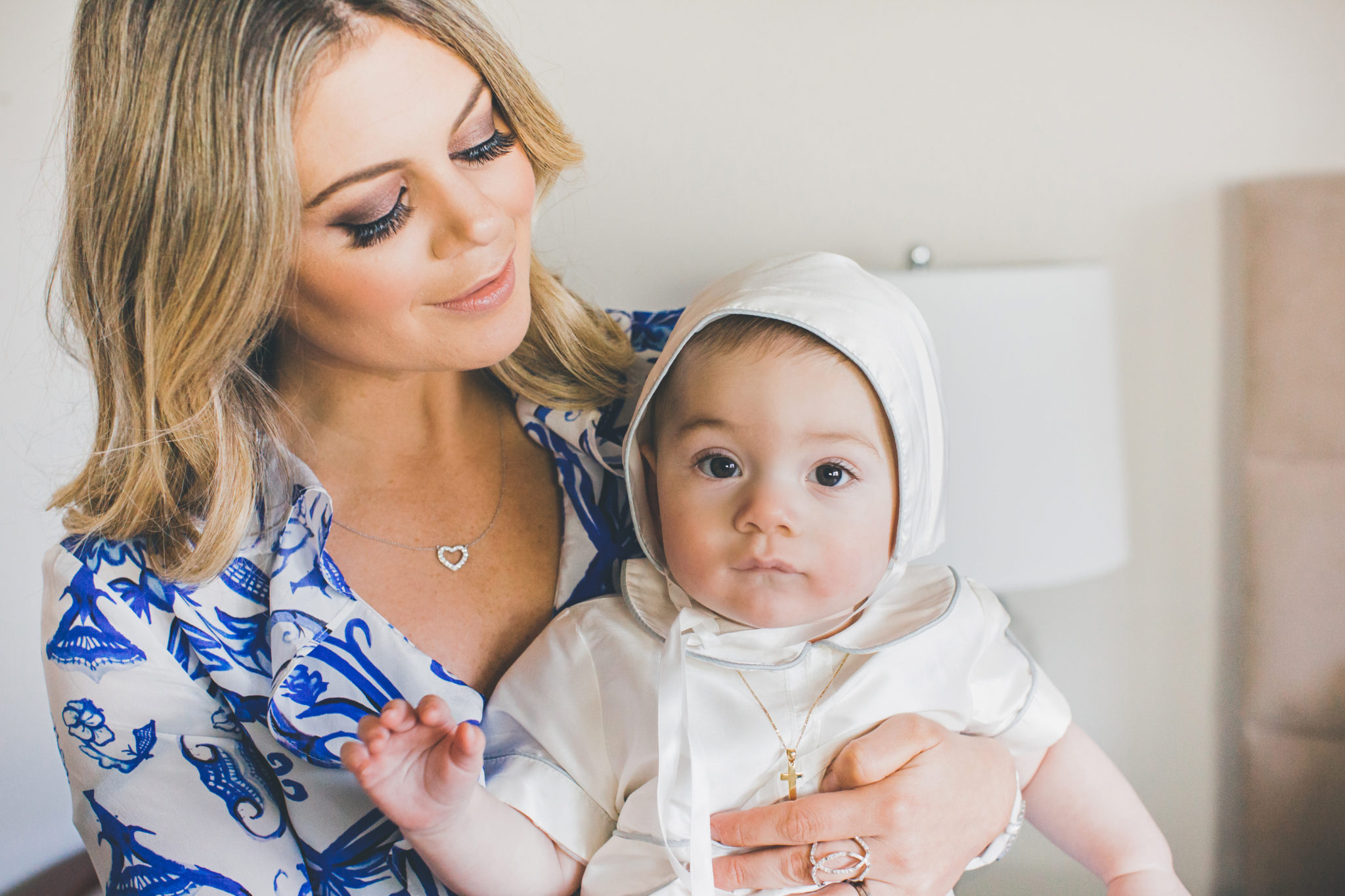 Our outfits
My dress is Torannce, Shoes are Gucci, Necklace, ring and bangles are from Anton Jewellery
My hair was done by Boda Hair and Makeup by Melissa Colosimo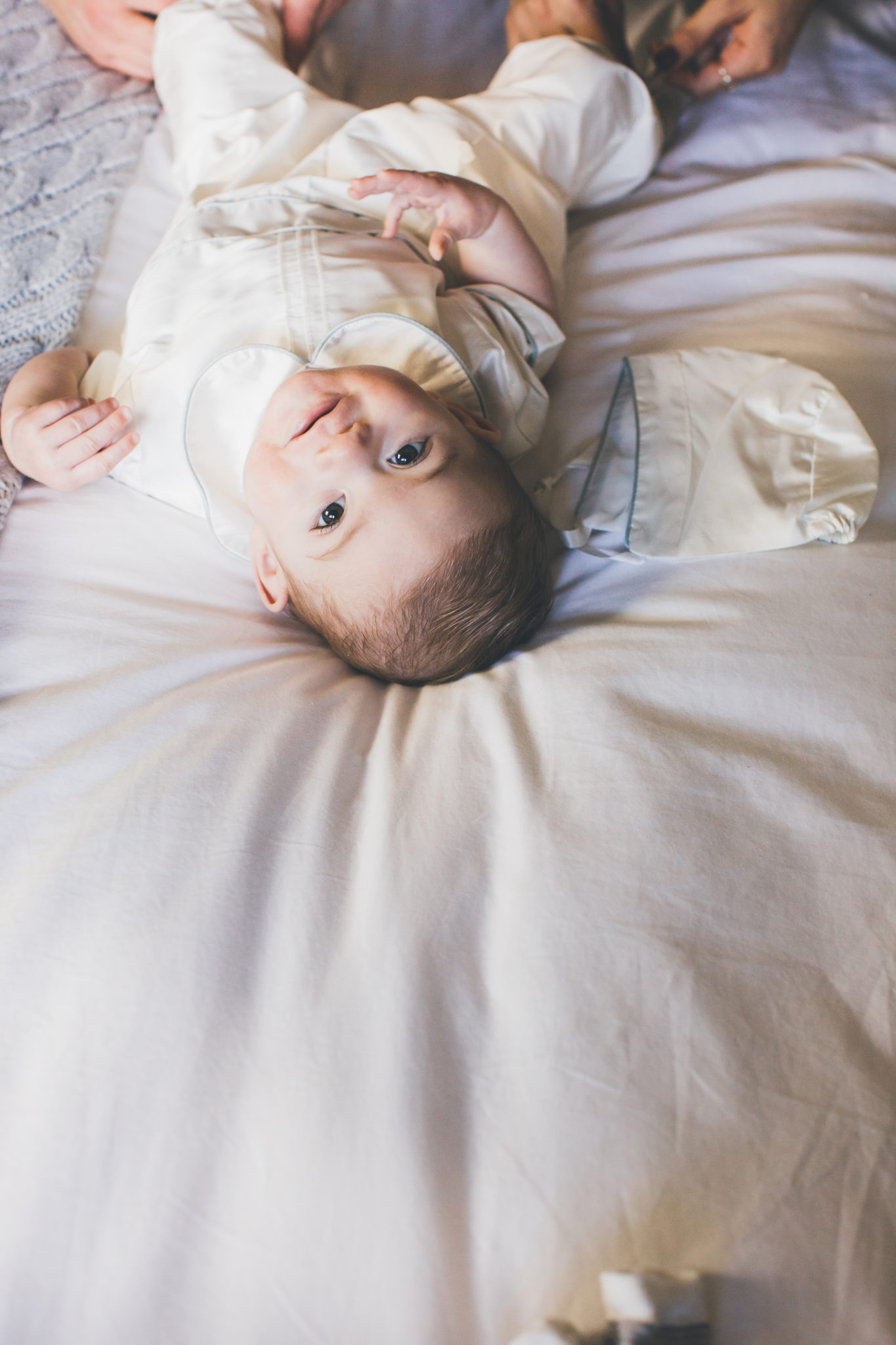 Photography
The beautiful photos were taken by Lisa Frieling. Lisa was my first ever blog photographer back in 2011 and was one of, if not the first, Melbourne blogger photographer. Lisa also shot the photos of Aston and Williams baptism's so we just had to have her again. One of my most favourite people in the world!