The heart of the home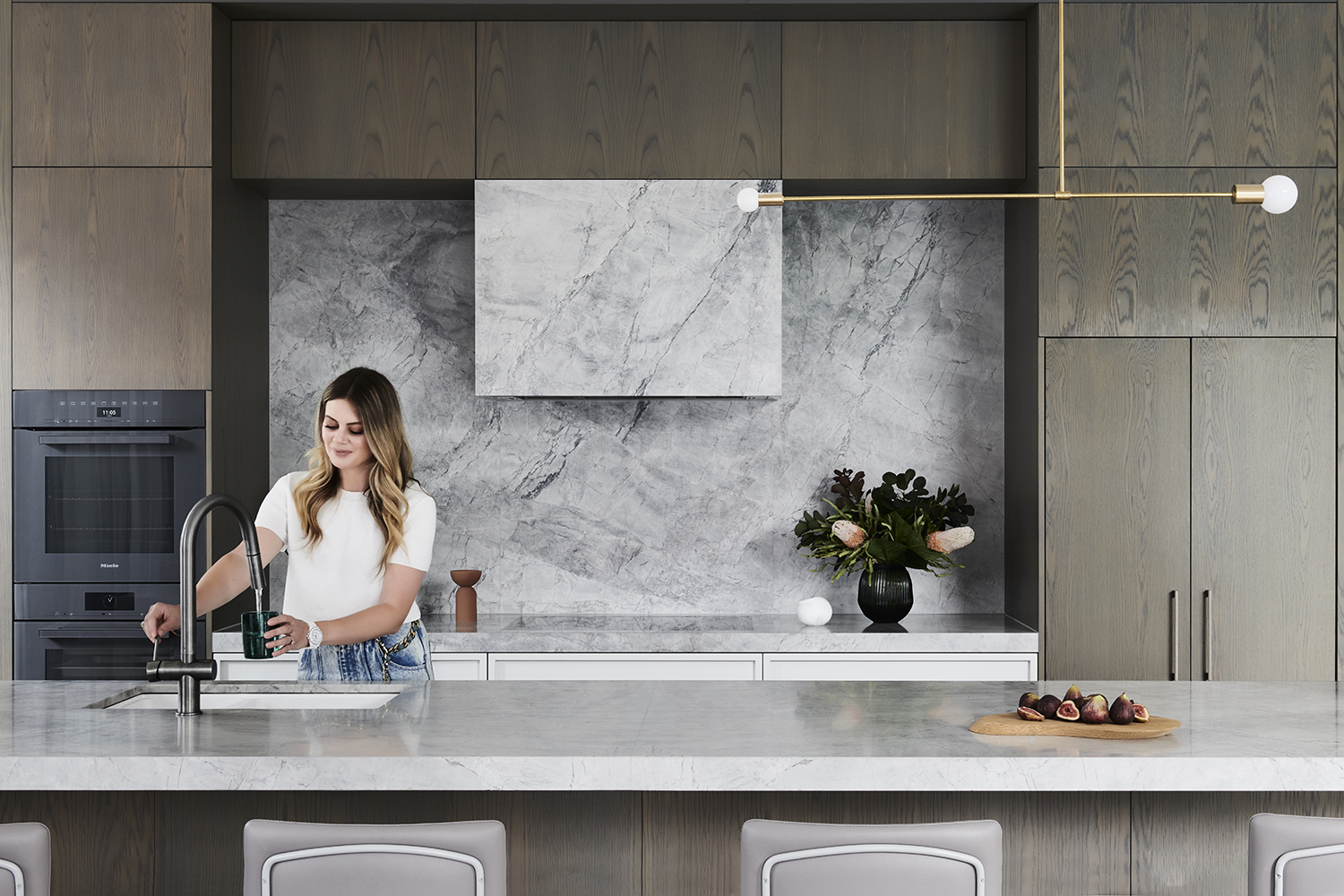 When it comes to my kitchen design, it was a slow and thoughtful process because this was our big ticket room. Our 'heart of the home' where we spend the most of our time as a family and with our guests, our 'wow' moments were all holding off for the moment someone steps into the kitchen for the first time.
The key things I knew I wanted:
An island bench as long as the one I had originally (4m)
Natural stone bench tops
Enough space to serve food when we host
Integrated fridge and dishwasher
Storage to the max
Induction stove
Filter zip tap
Double sink with insinkerator
For the design itself, it went from being a 'hampstons' style mood board, to a contemporary kitchen design and I am so thankful for this, for our home. Once I truly knew that I wanted a contemporary kitchen, I left it to Cassie to take over. I gave her a rough sketch of what I imagined the kitchen layout to be like, but when it comes to colours, finishes and selections, this is where I tap out.
Cassie went away and designed my kitchen and presented it to me with some options. This is the thing about a collaborative partnership between the interior designer and the client, you work together and of course, the client needs to trust the expert too. The only thing I changed from an original design she presented to me, was to take out some shelving on either side of the range hood. I didn't know what type of things I would put on the shelves and I imagined it looking cluttered and an unnecessary section I had to clean. We took it out.
The kitchen render images, I truly had to see from the get go, it was this moment when I could really see Cassie's vision for my kitchen. Apart from the shelves, the only tweaks we made were to swap the fridge and the oven locations, the fridge is closer to the lounge room and easily accessible for the boys to grab what they want without entering the kitchen. The second, was the sink. I moved the sink from the island bench to the side bench so many times and in the end, my gut told me that I would rather out-look to the backyard while washing up, than to the side window, also, my bench is so big anyways, those people that told me to keep my 'bench clean' maybe didn't have a 4m bench.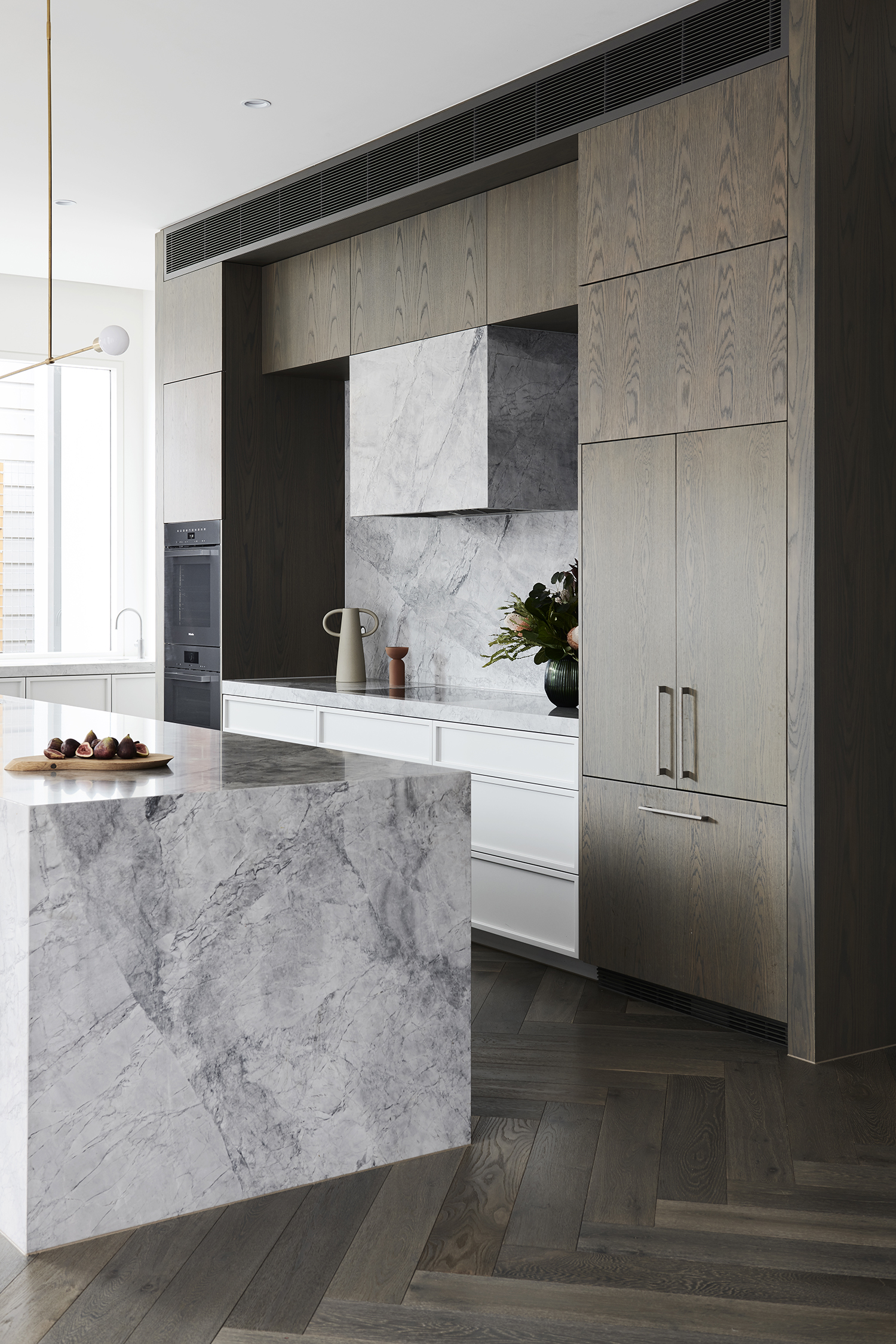 What do I use my butlers pantry for?
I get this question a lot from those of you that are renovating at the moment. Personally, my butlers pantry is only for a few reasons:
To hide big appliances that I don't want seen in the front kitchen (microwave, coffee machine, thermo)
Store my pantry items and a second fridge to store extra food and drink.
To accommodate large parties- third large dishwasher (I have two small dish drawers in the kitchen) and have any caterers base themselves in the butlers to prep food for any events we have (if any).
I do not prep food or cook in my butler's pantry.
The Selections
Stone Bench top and Stone Splash back: Quartzite Marble Calcutta Super White Honed Book matched 325x195x2 from Signorino
Stone Sealed by Rockstar and I can spill anything on it and not worry at all!
Rear Cabinetry: Premium Grade American Oak Crown Cut Custom Stain by Oakwood Kitchens
Side Bench and Island Bench: 2-Pac 2 Pac – Gloss level 10% Colour Haymes Moon and Stars.
Tap: Scala Sink Mixer Large Curved Spout Right with Pull Out Sprayer
in brushed gun metal from Reece.
Sink: Franke Impact Granite double undermount in white from Reece.
Zip tap: Hydro Tap Arc BCS and Font Standalone Design Range Drain
Brushed gun metal from Reece.
Pyro oven, Steam combo oven and warming drawer: Miele in Graphite Grey from Harvey Norman Nunawadding.
Induction cook top: Miele.
Fridge: Fisher & Paykel integrated French door.
Range hood: Qasair.
Dish drawer's: Fisher & Paykel double intergrated 60cm.
Wall GPO: Zetr in white steel.
Kitchen floor: Made by Storey Peppercorn herringbone.
Kitchen Lighting: Dot Antipode Pendant Brass and Etoile Two Light Wall Light Natural Brass from Lights Lights Lights.
Bench stools: Grazia and Co
Butler's Pantry
Tap: Mizu Drift MK2 G/N P/O Sink Mixer CP in Chrome from Reece
Sink: Franke Ancona ANX110-48 S Bowl Sink SS from Reece
Dishwasher: Fisher and Paykel 60cm Freestanding dishwasher
Benchtops: Caesar Stone Cloudburst Concrete 4011
Cabinetry: Laminex Oyster Grey
Wall Tile: Signorino CIF Opal White TGA-CIFOP-White
Floor Tile: Signorino METROPOLIS SHANGHAI IRON 600×600
Joinery: Oakwood Kitchens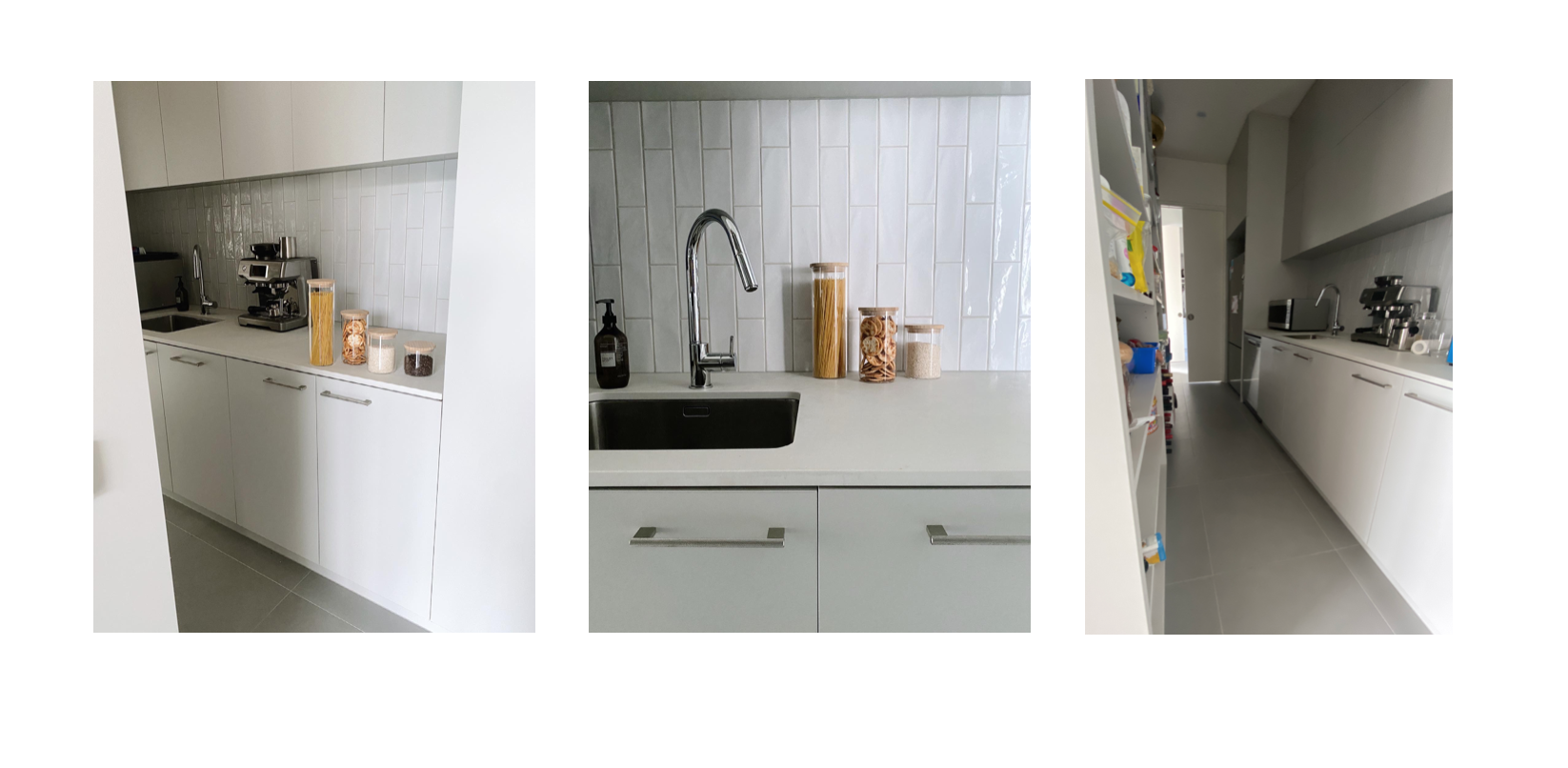 Dining
Wall colour: Dulux Natural White
Window furnishings: Sheer, Mokum Cavalier, Colour Cloud and automatic block out blinds, Lynch Window Fashions
Dining Table: The Wood Room
Dining Chairs: Globe West (n/a anymore)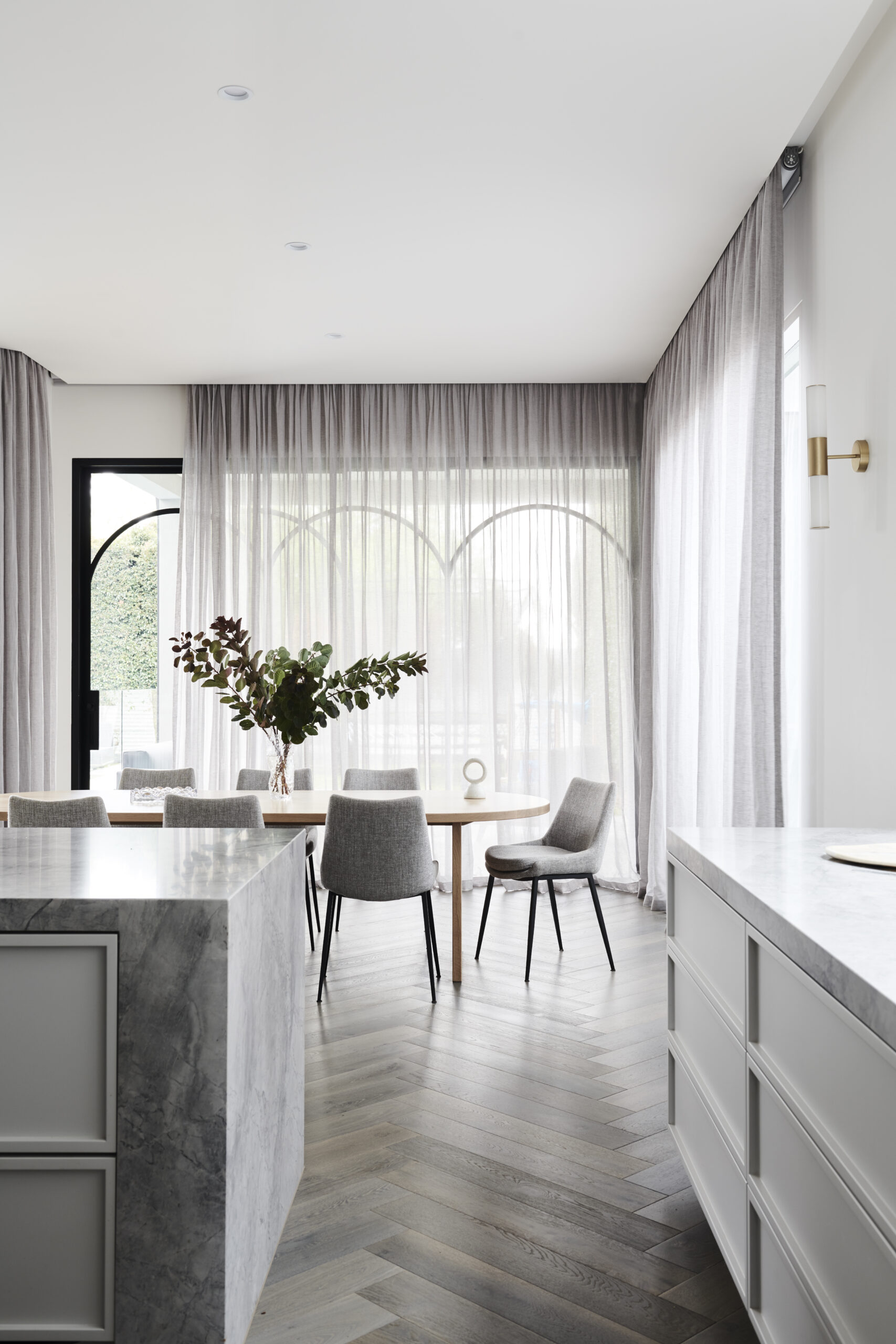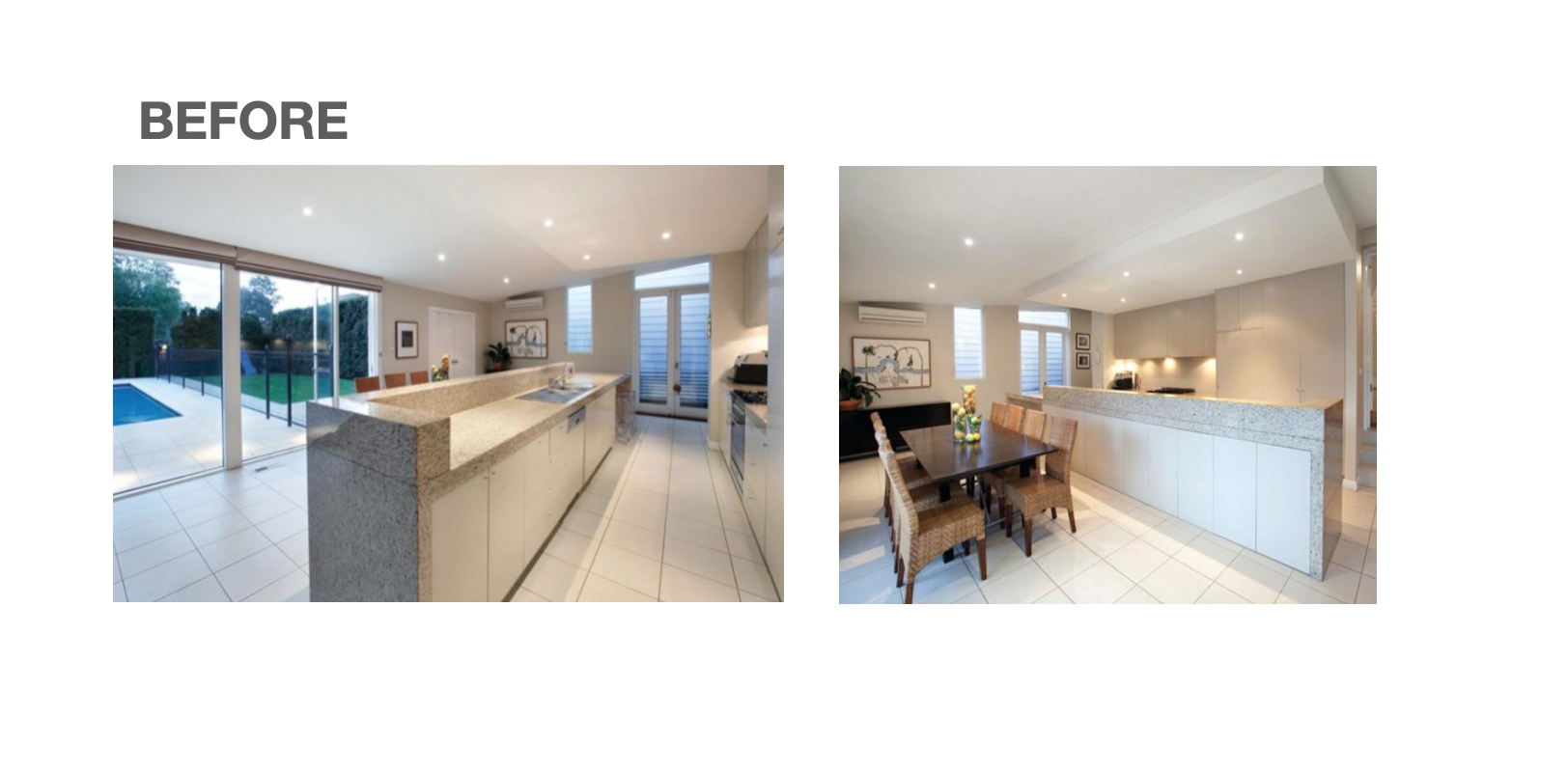 What I would have done differently?
I would have made the dining room window half a window and placed my hydronic heater there, not under my bench top.
Design: Cassandra Walker
Build: Clancy Constructions