Styling the bump for most women doesn't come easy. In fact, it took me three pregnancies to get it right. So, to save you having to go through three pregnancies just to work it all out like I did, I teamed up with Pacific Werribee to put together a Style the Bump workshop with all my tips, tricks and key advice on staying fashionable during pregnancy.
The event was held on Saturday the 23rd of September and was a tremendous hit with my audience. I got to show them examples of some current pieces available in the stores, for them to go off and shop immediately after the session and walk away with a mindful of stylish knowledge for their pregnancy journey.
For those of you who missed it, here is my Styling the Bump guide below:
MY FIRST TIP IS– DON'T LOSE YOUR PERSONAL STYLE
If you are a rock chick and you love an edgier look, don't change, if you are a girly girl, don't change, if you always wear the same jeans each day, don't change. My example is, I would always wear black, skinny, ripped jeans with a t-shirt and jacket from day to day before pregnancy. I knew that I simply had to keep wearing this type of outfit but I just had to accommodate for the bump, simply by finding maternity jeans that reflected the pre-baby ones I owned, go-up a size in my t-shirts and jacket.
WHAT TO DO FIRST? PLANNING FOR YOUR MATERNITY WARDROBE-
In my first few months of pregnancy when I started to get a belly, I opened my wardrobe and I went through every piece I had and pulled out all the pieces (tops, bottoms and dresses) that would not fit me whilst I am pregnant and just after.
Be brutal, if the top is too short or tight, take it out. If the dress won't do up or the skirt has a zip, take it out and pack it away and put it out of sight (a suitcase is a good place to store these clothes).
What we are doing here is saving your emotional and hormonal journey later in pregnancy, when you really want to wear one of your dresses, you try it on and you call for your husband to cut you out of the darn dress you are stuck in.
Also, because we want to stand in front of our wardrobe and just know that whatever we pull out, is going to fit and you can simply put together your outfits.
Now, organise the pieces into categories e.g all shirts together, all t-shirts together, all blouses, skirts, dresses and jackets together and all colour coordinated. This way, when you go to grab and item that makes up one of my three 'rotating outfits' you can simply grab and go.
Now we simply have to fill with the pieces that are missing (for example jeans)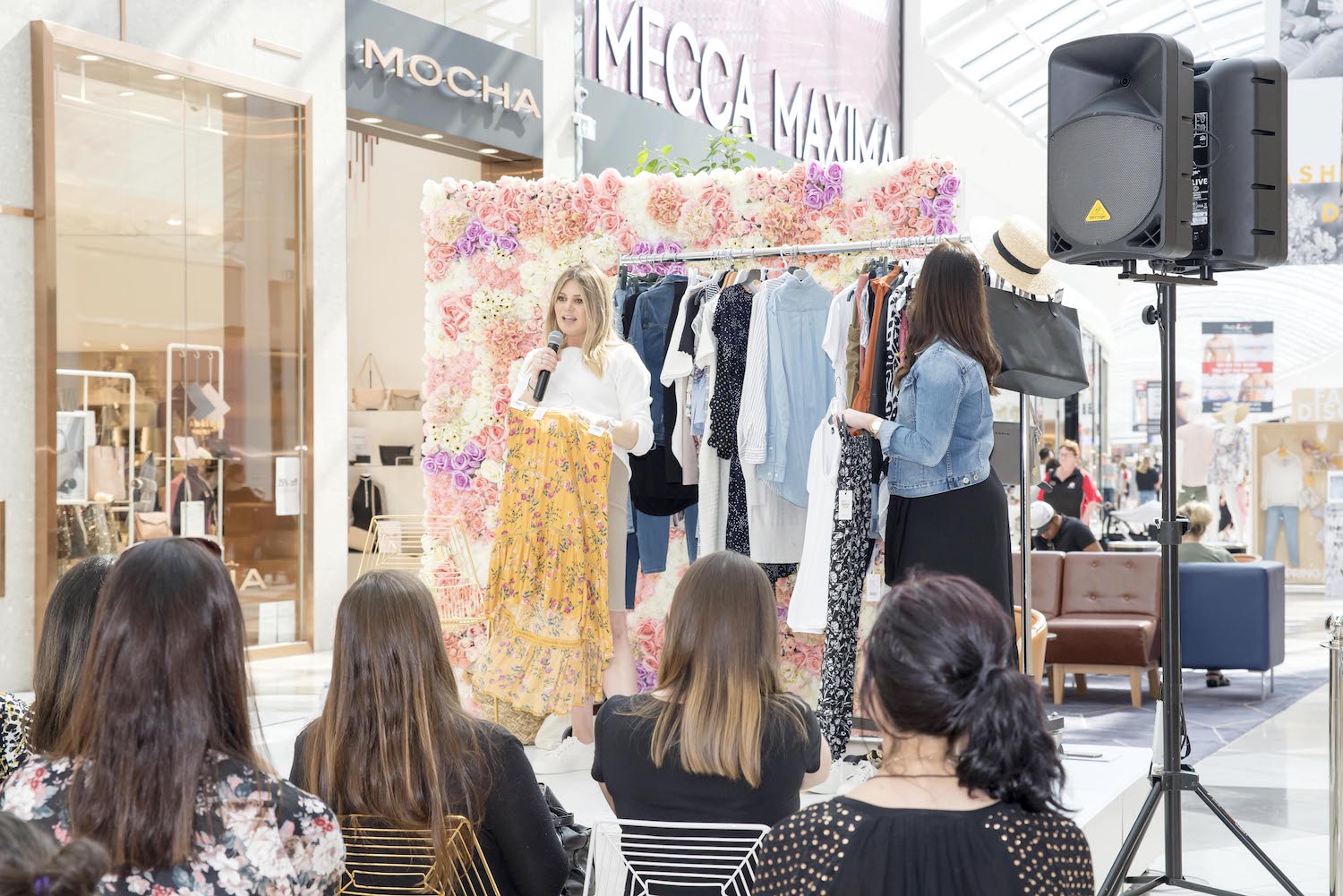 SECOND TIP: HAVE YOUR THREE KEY OUTFITS IN MIND FOR SIMPLE MATERNITY STYLING
OUTFIT 1: Consists of three items
PANT- Jean or Harem/Jogger
TOP- Blouse, T-shirt, Shirt
JACKET- Leather, Denim, Cardigan
What I love about this look as you have a great day/night outfit with your denim jean combination, you can simply put a great slogan tee on with some black jeans and a leather or denim jacket with some white sneakers. To dress this jean look up, simply swap the sneakers for a great pair of block heels. Swap the t-shirt for a long flowing blouse and block ankle boots and you are ready for a night out.
The Harem/jogger pant look is a chic comfy-ever-day look that I love. The pants are so comfortable it will feel like you are wearing your PJ's or active wear! Add a cool t-shirt or even a denim shirt if you like, put on your jacket for layering and add your white sneakers and you are ready for the day.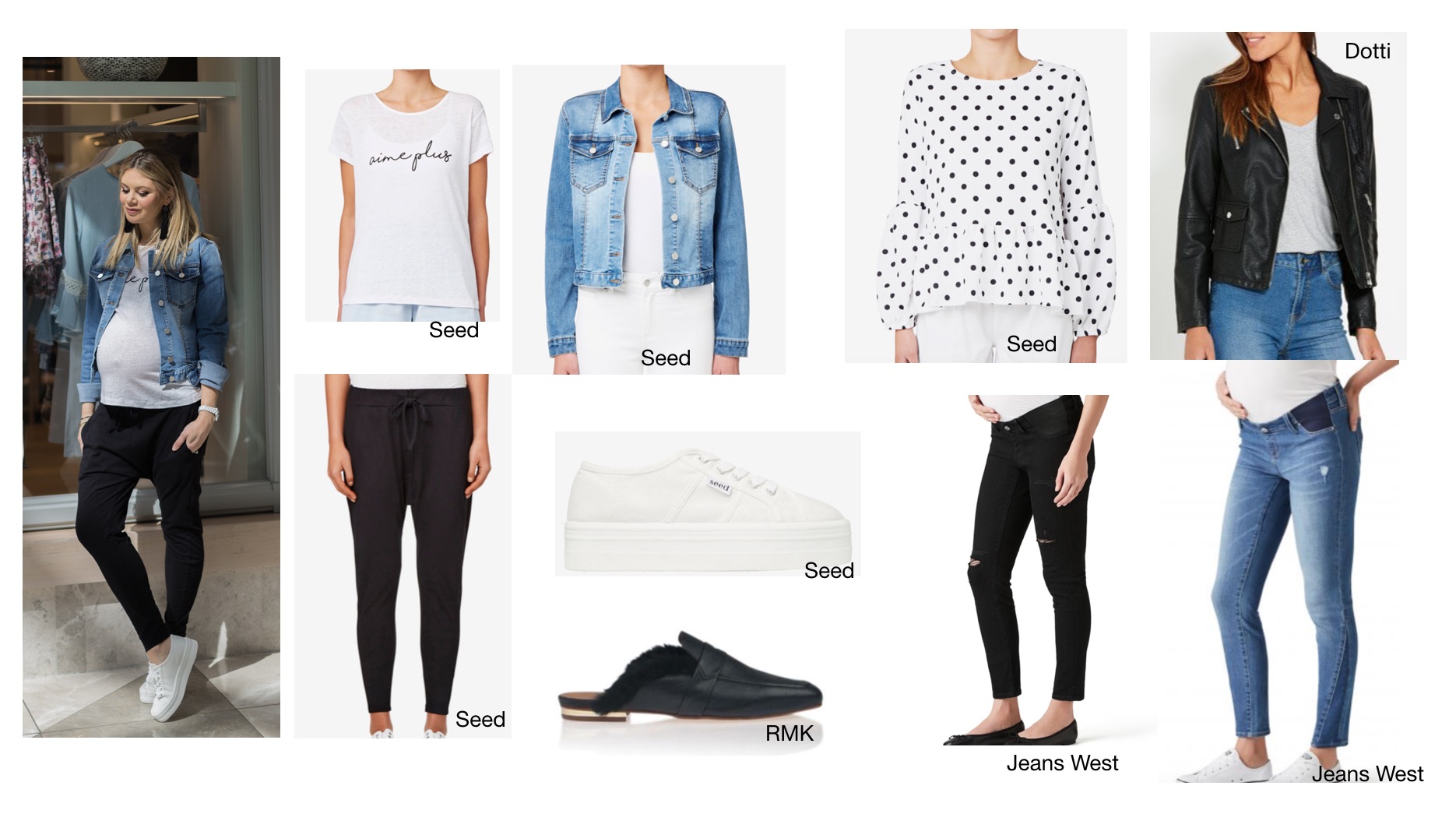 OUTFIT 2: Consists of two items
STRETCHY SKIRT- Mid, Maxi or short length
TOP- Blouse, T-shirt, Tank, Cami, Crop
This look I didn't try with my other pregnancies but now I am loving it! Simply wearing a skirt is perceived as making an effort, when the only effort you really have to make is to shave your legs! Look for skirts that have a lot of stretch and an elastic waist band, you will pull the skirt up to just under your bra line (the smallest part of your 'waist' now) and then simply add a top.
I love that you can wear crop tops or shorter tops with this outfit as you still don't see any skin as the skirt is pulled up so high. Always tuck in the top at the front as it will make you look slimmer (unless you are wearing a jumper or knit in which the oversized look will be best hanging over your bump).
Dress this look down by adding white sneakers, dress this look up for a special occasion by simply adding a dressier blouse top or off the shoulder top, put a statement necklace or earrings on and some block heels.
TIP- If you are conscious of wearing tight body-con skirts, stores such as Sussan and Seed have great long and light kaftans to throw over that will cover your behind. A long cardi can also be a great option.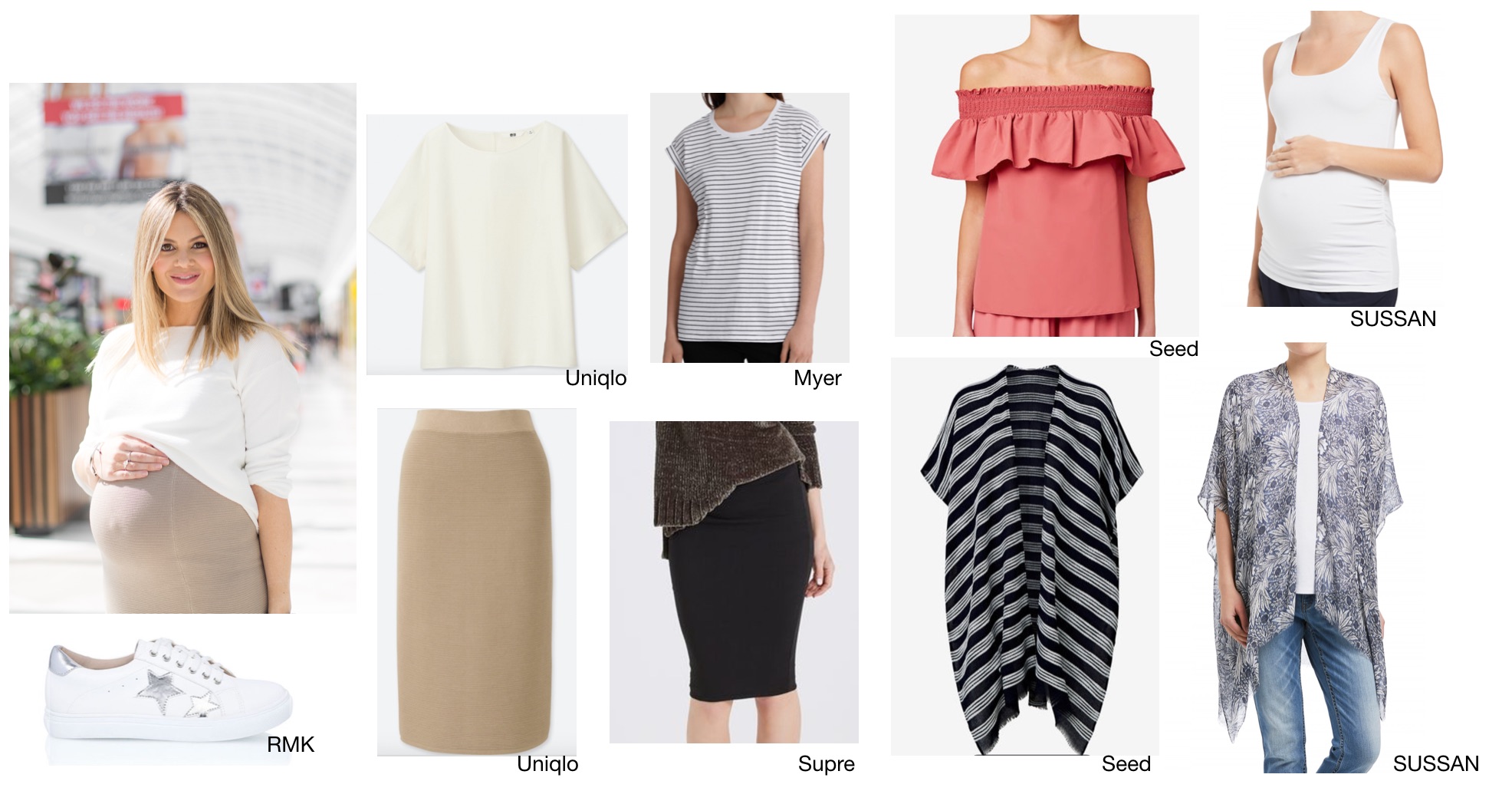 OUTFIT 3: Consists of one item

DRESS: Casual or dressy
I have loved wearing stretchy day dresses through this pregnancy, dresses are so comfortable and there are plenty of maternity and non-maternity options available. A stripe dress is a nice casual day time look and wearing with sneakers is extra comfortable yet cool. You could also add your denim jacket over the dress for some extra layering.
An event look with the dress option is easy and you simply just need to add in your accessories. Some statement earrings, a bag and heels take your outfit to a dressier level. Off the shoulder is huge this Summer!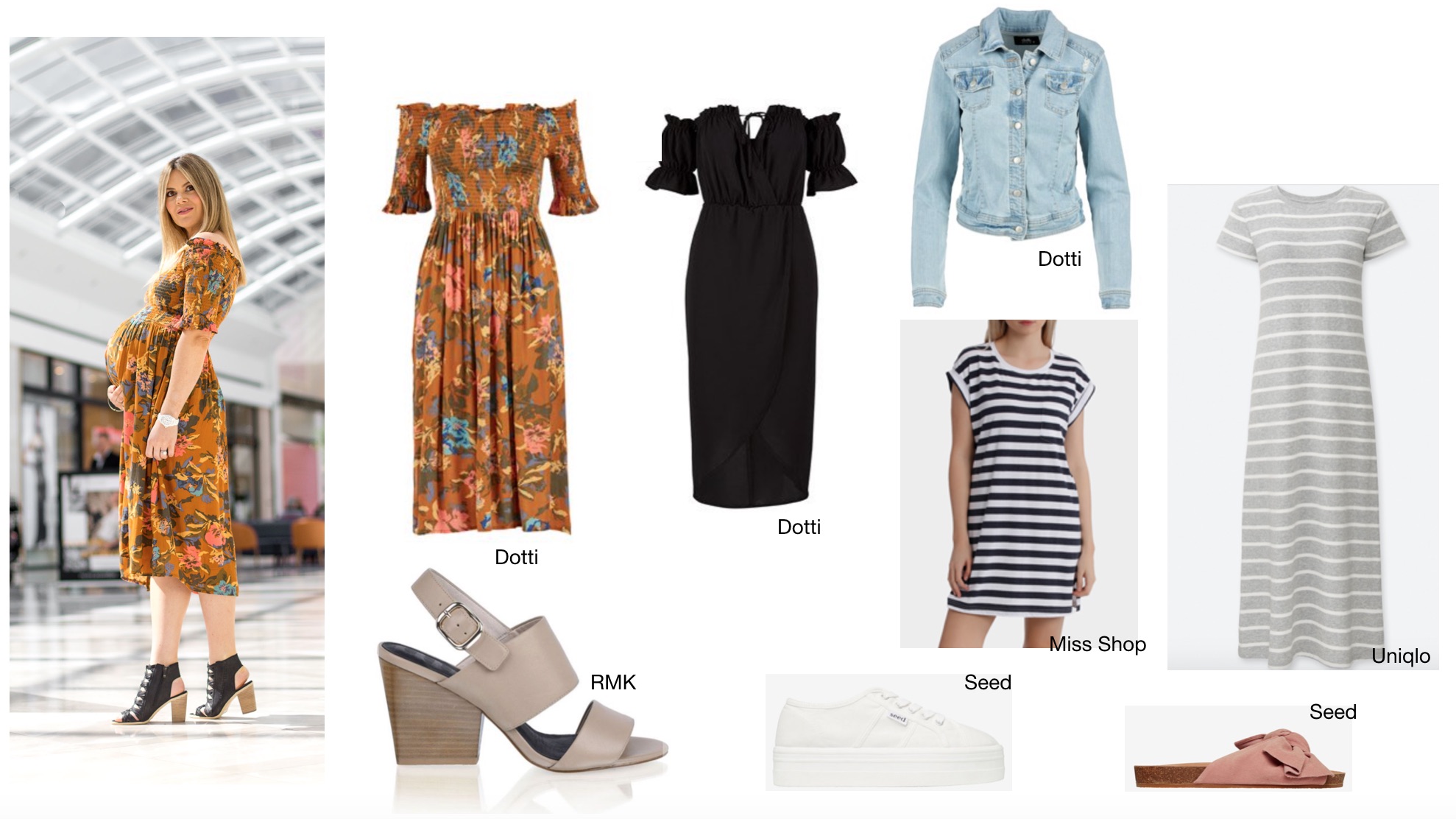 MY THIRD TIP- YOU DON'T JUST HAVE TO WEAR MATERNTIY
MY TIPS ON FINDING NON MATETRNITY PIECES
Find stretchy dresses and skirts
Bump friendly tops
Flowy tops
Long tops
Go up a size or two
To finish, my key ingredients to a good maternity wardrobe include the following: white sneakers, a denim jacket, denim shirt, harem pants and your fav maternity jeans (you can get some great ones from Jeanswest and Sussan).
Special thanks to the following retailers at PACIFIC WERRIBEE who I featured in the styling session:
UNIQLO
DOTTI
MYER
COUNTRY ROAD
SUSSAN
MOCHA
JEANS WEST
SUPRE
SEED
RMK
WITTNER
BRAS N THINGS
BONDS