One day, early last year, I looked at a photo of myself and all I could see was a saggy neck! What? How long has my neck been like that? Am I just noticing it now because it just happened or has it been like this for years? Since then, all I could see in my photos was my neck sag. I admitted to myself that it was my fault for not applying my skin care routine all the way down to my décolletage, and of course, I am closer to 40 these days, that age clock is a-tick'n.
I have this 'no botox or filler' rule for myself, which I wonder how long it will last, but for now, I am no rule breaker. I started applying my Liberty Belle RX skin care to my neck from the first day I noticed 'neck-gate' and made a call to Andrea Moss at Liberty Belle Skin Centre to ask what 'non-surgical' treatment I could do to get my neck back to what I remember it to be.
"Thermage!" she said, before I got deep into explaining the photos and the age thing.
"huh?"
"Trust me, Thermage is amazing!"
What is Thermage? Thermage Comfort Pulse Technology (CPT) enhances collagen production by safely heating the deeper layers of the skin resulting in a smoother, firmer and more youthful looking appearance without surgery or injections. TICK! TICK! TICK!
I booked myself in for my Thermage treatment on my face (not eyes, this is a separate booking but can be done on same day if you like) and was very excited for my appointment.
The day of my appointment, I documented it over on my Instagram stories (saved in my IG Highlights) and as it turns out- you guys went nuts over it! You were all so very interested in seeing how it works, if it hurts and keen to see results (results actually progress over time, up until 18 months sometimes).
I wasn't nervous at all, because I knew I was in good, professional hands and when you have this confidence in a company, like I do for Liberty Belle, then it was like I was walking into a relaxing derma-sweep treatment.
I did ask about the 'pain' factor and I was promised that I would not feel pain, as their equipment is the best in the world and pain shouldn't be felt. Look, maybe a little niggle here or there, but not pain-pain. All up, the treatment was less than an hour.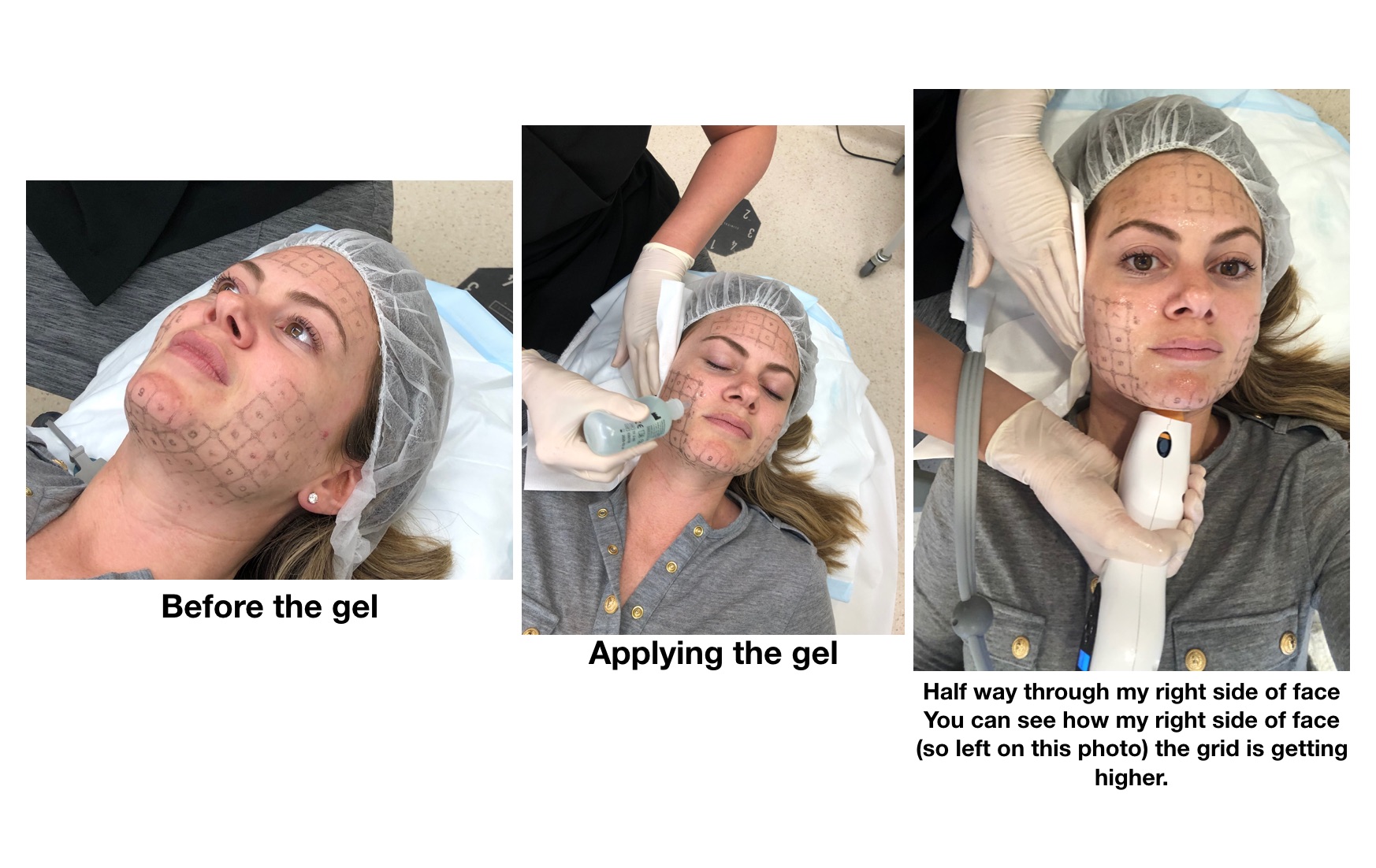 I thought I would include some images I took from the appointment to show you how it all works. They prep and map out your face to know where they will 'pass over'. The initial touch felt like nothing, it felt slightly warm but I could sit on my phone and not feel anything. I did have one tender little zappy spot which I felt each time the therapist went over it, but that was the only inch of pain I felt.
I did have a follower tell me that she went to have it done after mine and she said she felt more pain than that, but she is so happy with her results, I also wonder what pain threshold she has compared to me. Half way through the treatment, the therapist pulled the skin on the side of my face that was done and the side of the face that wasn't done. The side that was done, she couldn't hardly grab my skin but the other side was pulled super stretchy out (see my IG STORY HIGHLIGHTS) and I was in absolute shock.
If you look closely in my images, you can see where it is mapped out on my face, the grids on the side that is done is automatically higher and lifted than the other side. Wow!
There is minimal to no downtime (aka you can go out in public afterwards) after the treatment and I actually had an event on that evening. When I was putting my makeup on that night of the treatment, I looked in the mirror and I could immediately see a difference in my face. It was a more plumping and firmer appearance (which is common to see immediately) I looked down right amazing, the most amazing-ness-ness I have seen myself in a long time. However, I did keep in mind that it might settle down over the coming days as I knew the process of building new collagen in your skin isn't instantaneous. Thermage delivers continuous improvement of the look and tone of the skin over a longer period of time between 2-6 months after the initial treatment.
For me, I noticed results immediately on my face and my neck after the first month. I am at the 4-ish months part, my neck is still great, my cheeks feel full and firm and my lines on my forehead seem softer. I feel more 'awake' if that is even a thing? And more radiant? more plump and less saggy on the neck and jaw line! I do want to book in for my eyes next which I think will be absolutely amazing!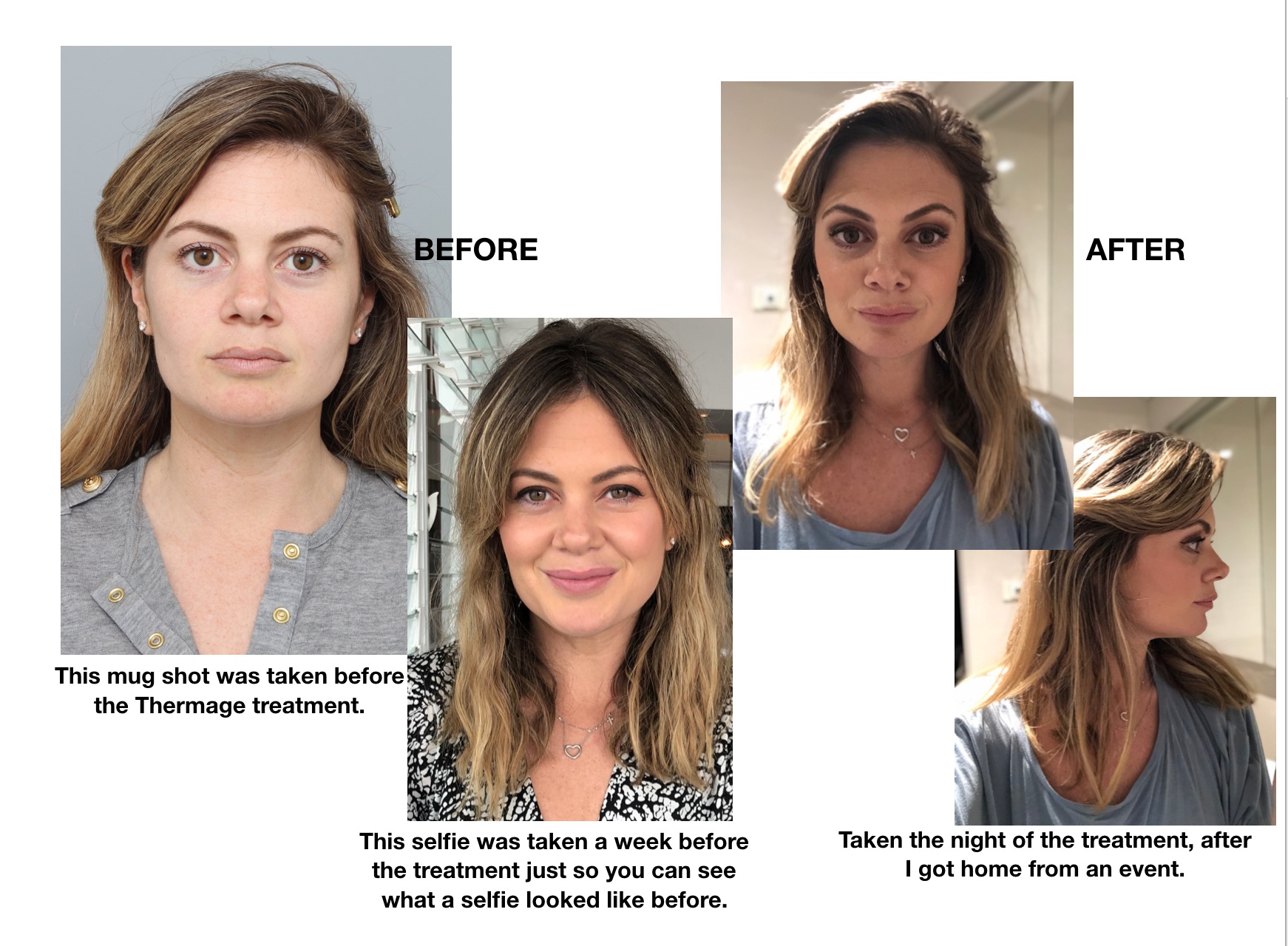 So, the verdict? Let's just say, this is something I would love to look at getting annually. It is an investment, let's be honest, but for those spending money on injectables, I wonder how much that adds up to each year and if it is the same as what Thermage will cost? One thing I know, I am finally doing something for me and it sure has made me feel great about myself without breaking my own rules.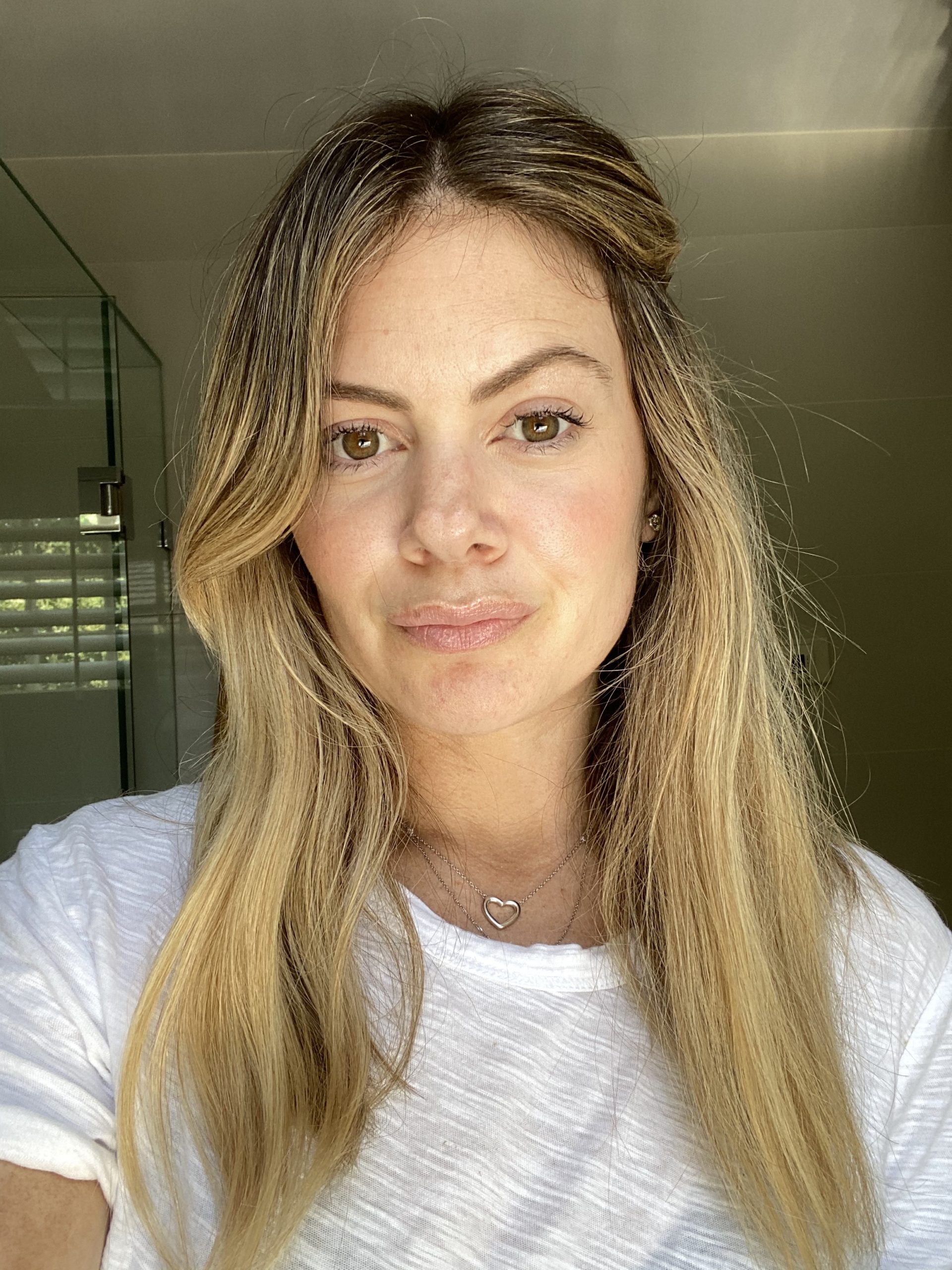 Any questions, the Liberty Belle website has FAQ's HERE or call up the lovely reception at the clinic and they will chat to you (tell them I sent you!).