This is an expensive time for mum's-to-be but from experience, I never regret the things I bought for my baby because, you pretty much need it all.
Everything I have featured above is exactly what I have for this baby…everything (or on my to-get list) so this is my personal recommendations.
Here is a tip- if you have a list of items that you need to buy in mind, do the research online and find that item at the best price. I waited for online stocktake sales or baby store sales to get a bunch of these things and my Pottery Barn Kids Cot is so gorgeous, if I miss out on a % off sale, I actually don't mind, because just like my bugaboo, I have my heart set on it!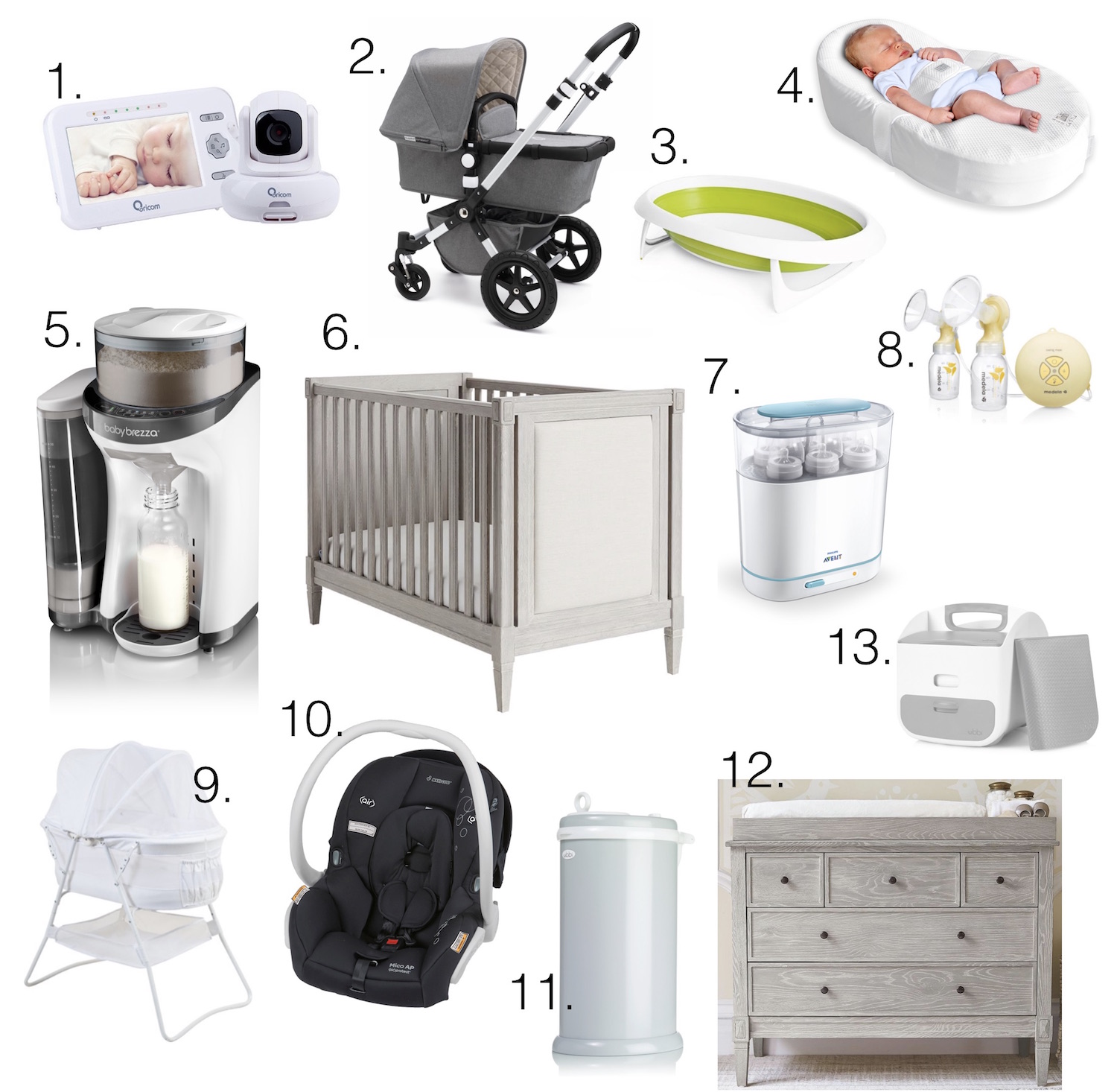 BABY ESSENTIALS EDIT, HANDPICKED by Jess Dempsey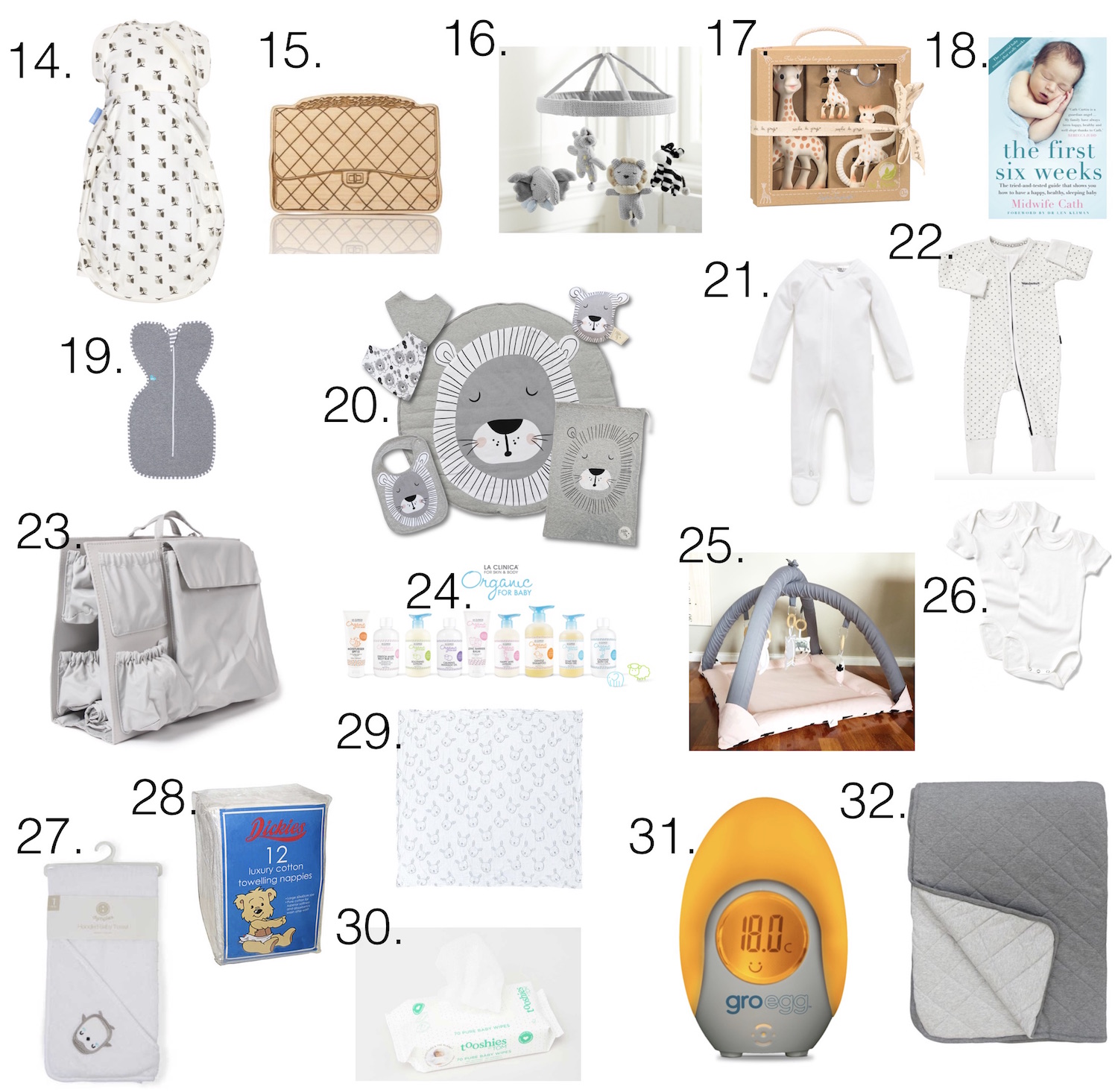 14. Swaddle Gro Bag (HERE): I love the Gro brand and is a trusted brand that I have used and love. My       boys slept in the original Gro bag until they moved out of their cots and now the swaddle will be a new item for me to try. This particular product is a 2in1 so you can convert from arm in to arm out.
15. Shoulder Bag Teether from Coopers Crib (HERE): Do I really need to explain why this is an essential? Ummmmm because it is the coolest teether I have ever seen and is oh-so on brand for me! I chose the Chanel-esque bag one, there are Celine-esqu and Hermes-esque and many for boys also. The perfect 'essential' for the fashion mama!
16. Pottery Barn Kids Knit Animal Cot Mobile (HERE): How gorgeous is this mobile? As soon as I saw it, I couldn't stop thinking about it, so I ordered it online on the weekend. I love the neutral colours, the fact it is knitted and just so darn cute! I also ordered the mobile cot arm (HERE) as our ceilings are very high.
17. Sophie La Girafe (HERE): Sophie is essentially your babies first toy. When your baby starts to hold things and get bigger, Sophie will be his/her companion every day. I bought a Sophie for my boy's to give the baby as a gift when they first meet their brother or sister in hospital.
18. The First Six Weeks by Midwife Cath (HERE): My very own guardian angle/baby whisperer/slash baby guru Midwife Cath wrote a book about the first six weeks of having a baby. I was lucky enough to have the women herself as my guidance when my second was born and now, I get to read her book and remember all the tricks she taught me. This will be your baby bible, the key to a good sleeping baby and practical and real advice for the modern mum.
19. Love to Dream Swaddle Up (HERE): Another great baby brand that I love and trust. We used these swaddles when both boys were ready to come out of the muslin wraps,
20. Mister Fly Baby Bundle (HERE): I recently fell in love with the Mister Fly brand and I just had to put a few of their products into this essentials list. I have this bundle for my baby and thought it was just the cutest thing and can see all the cute photos I will take of the baby with these items. The bundles come with different characters and is a wonderful gift idea for a new mama.
21. Pure Baby Zip Grow Suit (HERE): These life saving zip grow suits were first released when my first son was born. I had a few weeks of deliriously trying to button up the baby's grow suit and getting the buttons all wrong, then I discovered the Pure Baby Zip suits. The best, the long lasting and gorgeous essentials on the market for your baby. Buy 12!
22. Bonds Zippy (HERE): Another option for the zippy grow suits, Bonds have a great bright, printed and fun collection of the zippies available also.
23. ToteSavvy (HERE): I always have tote bags as my nappy bag and this tote insert will be a blessing! I spent big bucks on my tote and I want to try and keep it as clean, milk free as possible!
24. La Clinica Organic For Baby (HERE): I have been using Organic for Baby since my second son was born and to this day, it is still the products we use to wash the boys. Babies and toddlers have sensitive skin, sometimes more than others and this organic baby range gives me peace of mind knowing I am doing the best I can for their skin. These products have been replenished in our household for over three years now.
25. Papoose Play Mats (HERE): I love supporting small businesses that steal my eye and Papoose play mats are absolutely gorgeous. They are hand made, custom made and I just cant wait for mine to arrive.
26. Bonds Body Suit Singlets (HERE): A definite essential, we have our boys wear these Bonds body suit singlets from new born, up until they are toilet trained. They wear them every single day to keep their chest warm. I recently bought a few packets of new ones but they last pretty well, through three hand-me-downs!
27. Hooded Towel (HERE): A hooded towel keeps your babies head warm after a bath and it is good to have around 3-4 of them. I dont like to spend a lot of money on them so I usually go to Big W for mine.
28. Cotton Nappies (HERE): My mum told me about these, they are great for burping, wiping up dribble and I put it in the bassinet tucked in tight under the mattress under where the babies head is for any spew ups. Buy a pack and give half to another mama.
29. Mister Fly Muslin Wrap (HERE): We always wrap our newborns in muslin wraps for the first few weeks and you can buy any muslin wrap you like, but as I said earlier, I love the Mister Fly prints, I got this bunny one for my baby.
30. Tooshies By TOM Baby wipes (HERE): I only use fragrance free wipes on my babies and the Tooshies ones are wonderful and are made with organic ingredients which means extra gentle! I will be taking these with me to the hospital to clean the baby after a nappy change. The hospital might suggest cotton balls and water to you, I tried that and well lets just say it lasted one nappy change.
31. Gro Egg (HERE): An essential? yes! I love my Gro Egg!!! The hardest part about a baby is knowing what to dress them in at night and with the Gro Egg, it makes this a little bit easier. The Gro Egg sits in your nursery and tells you the temp in the room, if it is too hot, it goes red and then fades lighter for a cooler room. I love it and have used one for almost 6 years!
32. Mister Fly Cot Quilt (HERE): The good folk at Mister Fly are going to love me after this post, but everything is so gorgeous! I love this reversible cot quilt so much, I don't have it yet but its on my list for when the nursery is ready. That grey marle colour is my go-to for this baby from the pram to the nursery and I just think this piece is a gorgeous addition to a nursery.