It was almost the same time as last year when I had a stay cation at Crown Towers. The difference is, last year we celebrated my birthday (July) just me and Josh and this year we went to celebrate our ten-year wedding anniversary…with the kids.
You could say, it was two very different experiences, staying without the kids and staying with them. The thing that was the same, was how good it felt to be out of the house for a night, to enjoy the exceptional hospitably of Crown Towers and sleep in that oh-so delicious bed of clouds, even if it was a Queen size this year.
Whilst we were waiting for our Deluxe Twin Room to be ready (two queen beds) I had a massage booked in, so I left Josh to deal with the three boys and do, well, I actually didn't care what he did, as long as he didn't lose one of them (William) fed them (bottle for Freddie) and had them all under control until he got the call that the room was ready. I admit, as I walked away from them, I started to question my timing might have been better for when the room was actually ready and Josh would have just had to control the kids in four walls. I soon forgot all about the four Dempsey men as I pushed open the double doors that said, 'Crown Spa'.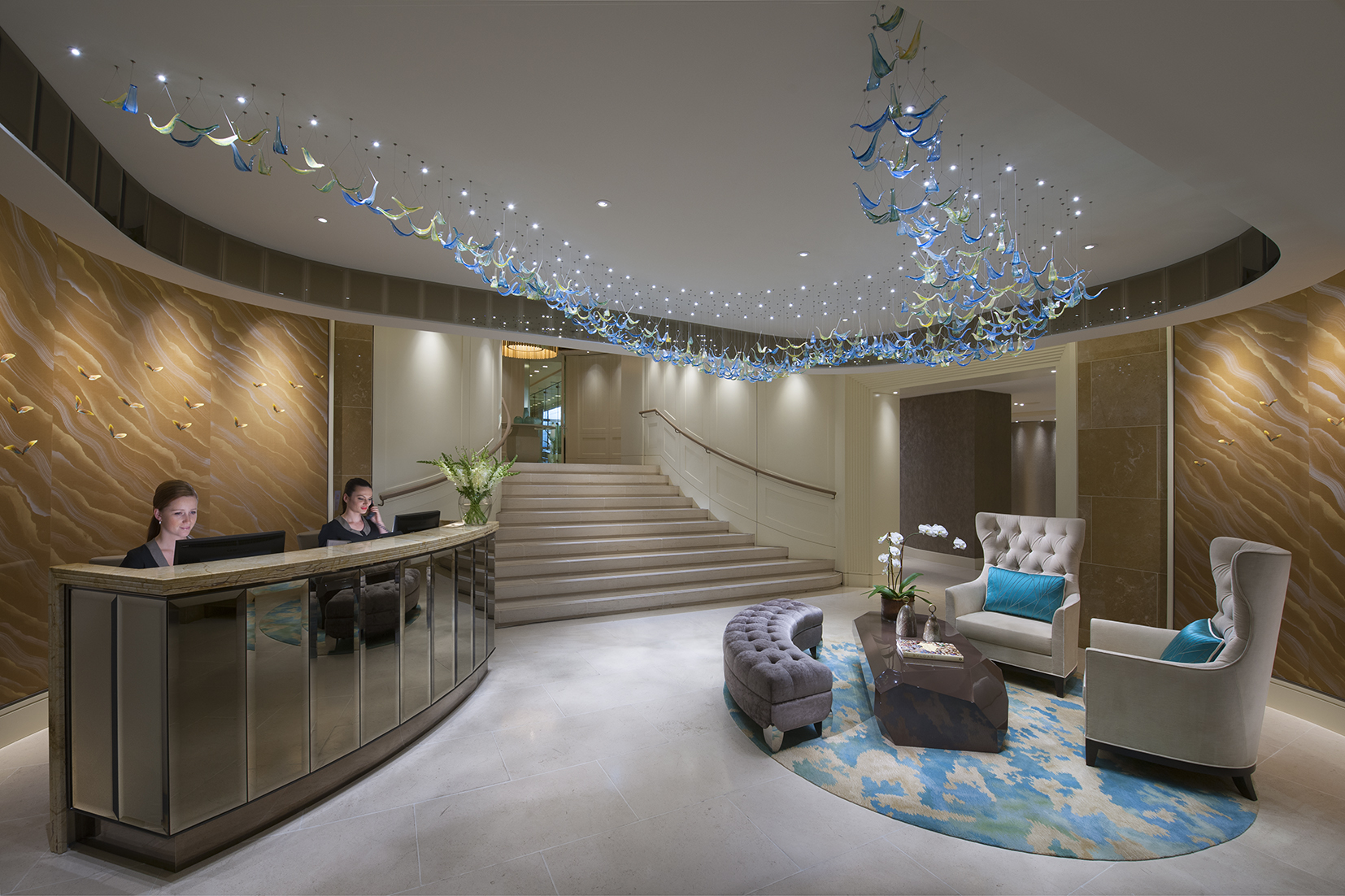 I almost… ALMOST, fought back the tears that were essentially a build-up of stress from the last six months, potential tears of absolute relief that I finally…FINALLY, get some alone time and time for my body and my mind. Have you ever had a massage at Crown Spa? It is everything you will think it would be and then times it by ten. Sometimes, I think you could walk into the Crown Spa, relax in the relaxing wait room with some herbal tea and walk straight out again and you would still feel just as Zen, the ambience is just so heavenly. But of course, we want the massage, too don't we?
I chose the Blissful Marma massage which relieves stress and tension- perfect! I felt like it was time to graduate from the usual 'relaxation massage' that I always choose because I am too scared to try anything else and I am so glad went out of my comfort-choice zone. This massage used long, firm movements on my body and the 'marma' therapy and chakra balance align vital energy centres- not sure what that means but I felt amazing. The lady with the golden hands also did a signature facial marma massage that is supposed to balance the emotions, release stress and reduce anxiety- bingo! What kids? Will is lost? Not my problem!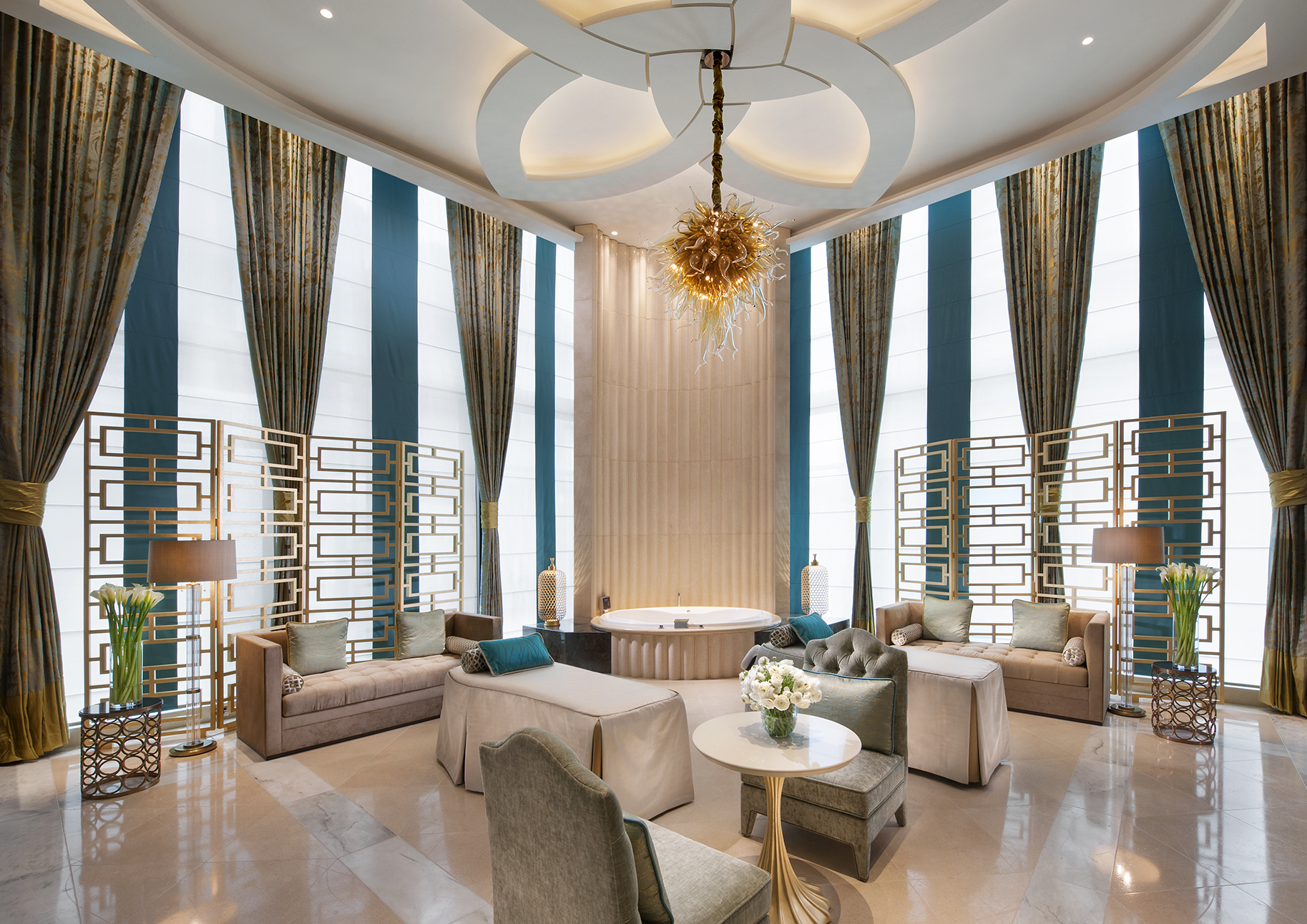 I felt so in tune with all my senses during my time in that peaceful sanctuary. I could hear soft, calming ambient sounds and music playing that calmed my breathing down to a slow and sedated state. I smelt the oils that were used and I inhaled just before the massage began. I felt the touch on my body at the perfect firmness for me to really feel every little bit of the massage. Visually, the Crown Spa is exactly what a retreat should look like, it almost makes you feel like time has stopped and is waiting for you to tick on again when you are done, and this is why all my stresses disappeared as I entered those double doors and then as I left, I was ready for me to be mum again.
I can't rave on enough at how good this massage was and I am planning a girls day out in my head as I write this, that includes massages, a swim in the pool and club sandwiches and mocktails at Crown Spa asap!
When the massage was finished, I met the boys in the hotel room. I went up to the 27th floor after retrieving my door card from the Crystal Club (yes, if you book at Crown, please add in the Crystal Club! It is a place you can check in and out from privately and they offer breakfast, afternoon tea and pre dinner drinks all included in the cost).
I opened the door to our room and you should have seen the smiles on the kid's faces, they were absolutely loving life. Will was standing on his bed (post-jumping, I am sure) Aston was admiring the view, Freddie was playing on his play mat and Josh was enjoying a beer on the bed. Living the dream boys, living the dream!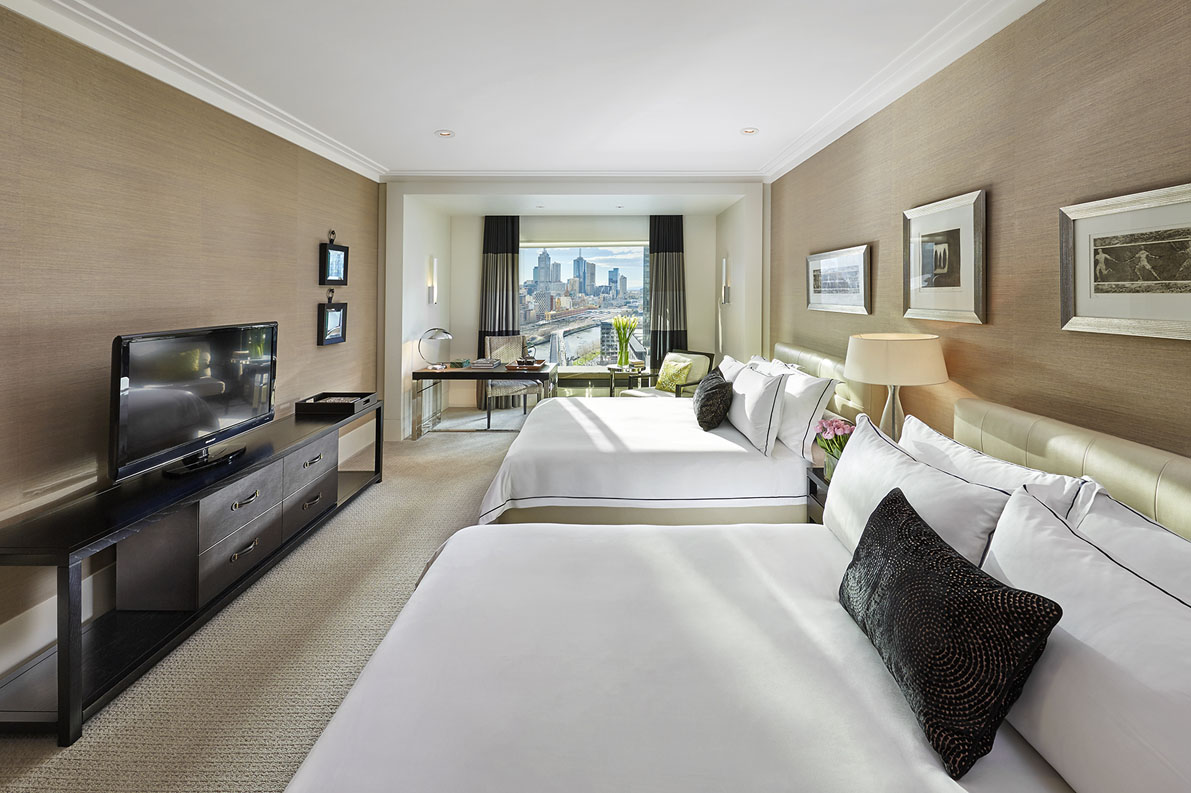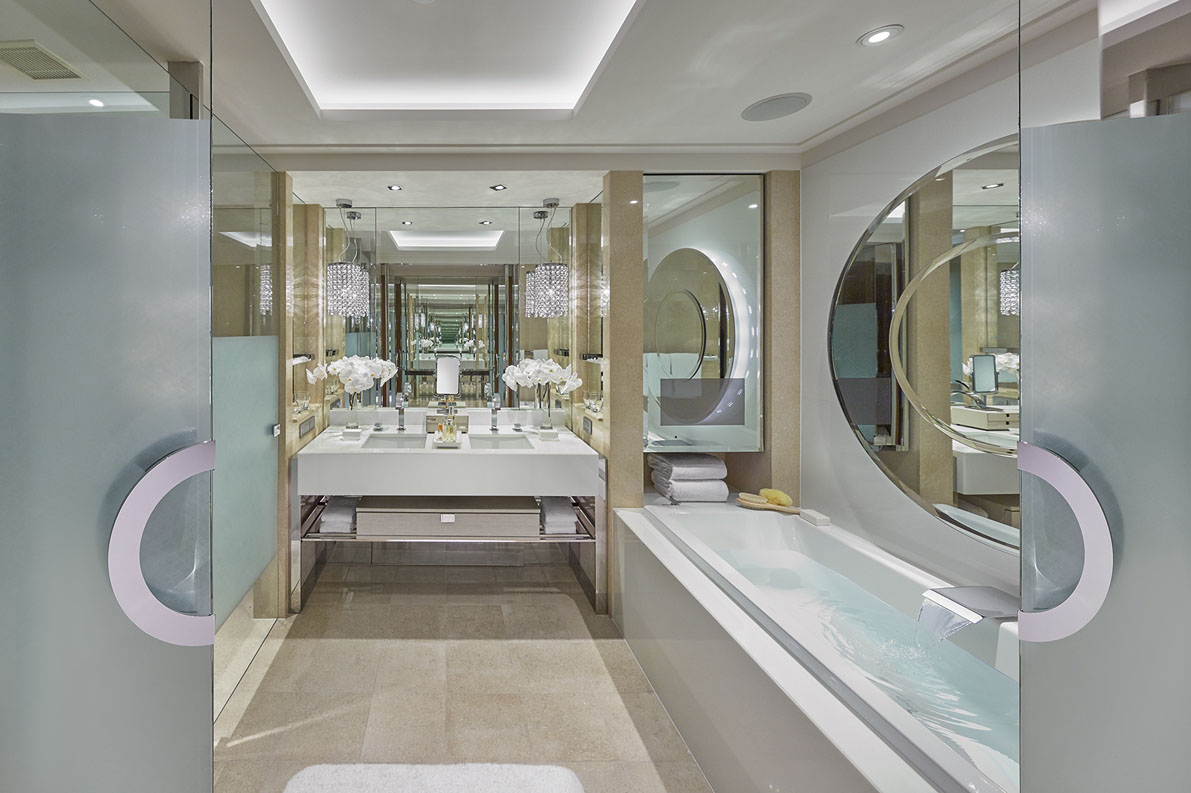 I think if I didn't round them up to go down to the pool, they would have been very happy staying in the room until dinner time. I put Freddie into his pram and he fell asleep immediately, we went down to level 3 and Josh and Will swam in that incredible opulent indoor pool. Aston was still unwell so he sat with me and then watched me eat my club sandwich, because, holidays.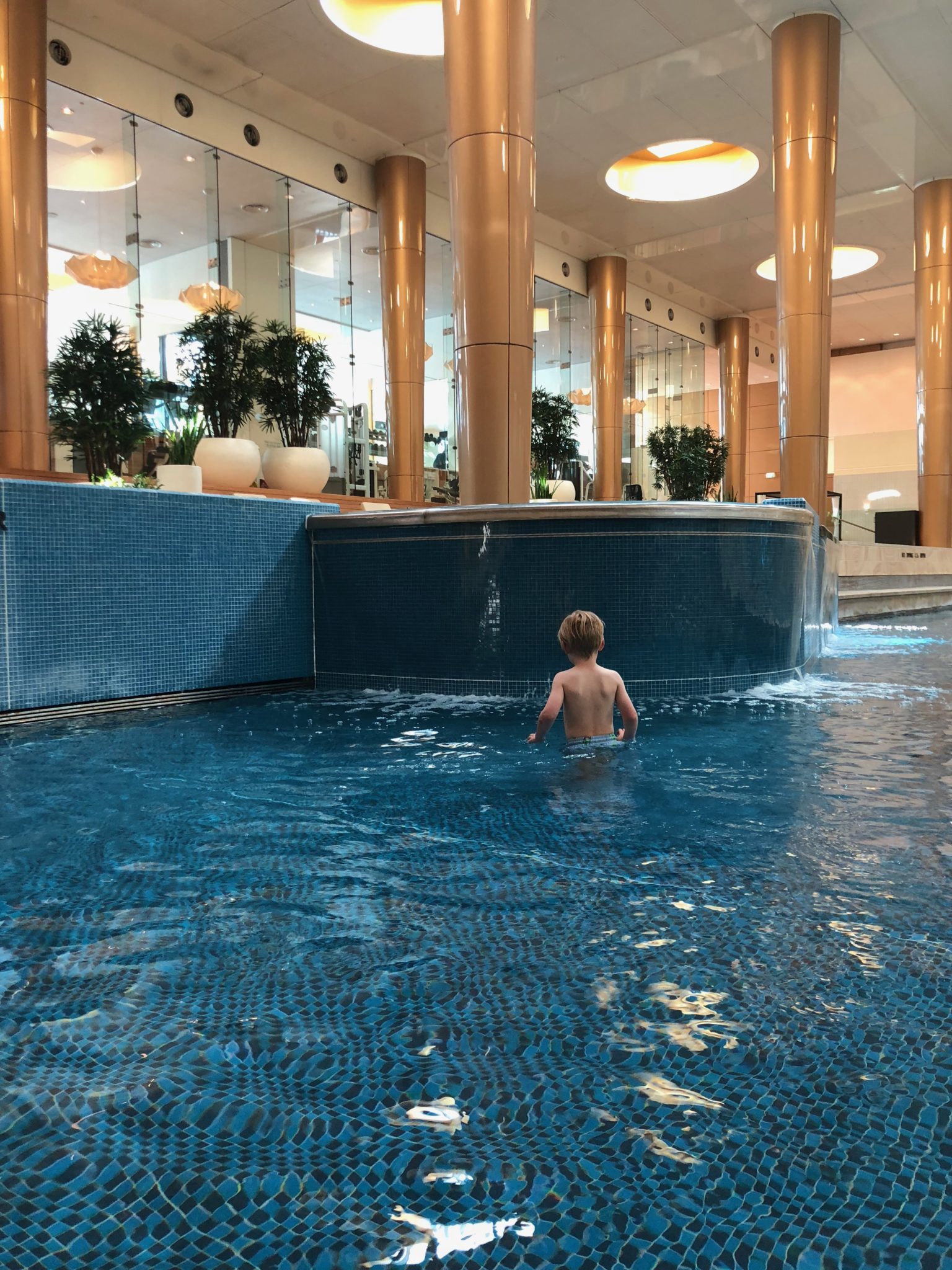 Some other things we did was download a movie in the room for some quiet time, Josh went off and watched some of the football at a bar (how convenient) but I actually didn't mind as Freddie had a nap and I got to close my eyes for a while, which was the first day rest I have had since pregnancy.
We all went out for dinner to Gradi, a lovely Italian restaurant that caters for the whole family. I ordered the muscles and the kids and Josh had delicious pasta that was very convenient for me as I knew the kids wouldn't eat all of it so I could eat their left overs also! During dinner, we saw the fire flames along the river light up (William was petrified of them). If you don't know what they are, they are huge gas fire vessels that let off flames several times, big and loud every hour.
After dinner, we took the kids to see the water display in the Crown foyer, I remember getting excited of the water display when I was younger. I got to enjoy a snoop at the retail stores (I went into Harrolds to check out their incredible sales) and before bed, we went to The Waiting Room for a night cap and watched a pianist and soloist from our seats, such a lovely way to end the night.
The following day we went to the Aquarium which was just across the river, a quick little walk and an absolute favourite place to visit.
There would have been two jam packed days of activities for us to do, including going to the movies, ten pin bowling or other restaurants to try if we decided to stay another night.
I also got to experience what it will be like when we go overseas soon and having to provide for Freddie in a hotel room. I packed 7 bottles (sterilised with water in them) and brought along his container of formula. When I was ready to give him a bottle, I would tip out half the water from a bottle to about 140/150ml and then boil the kettle in the room and top up the water to 180ml and then add in his formula. To feed him solids, I packed some frozen food that I made him into containers and just let them thaw out to room temperature and I also packed some Organic food pouches to feed him. I also had his rice cereal already portioned in a container ready to add his formula in.
Freddie actually slept with us that night, he slept soundly of course and because the room was so dark, he slept until 7:30am. His day sleeps he slept in his pram.
Yep, it was a sensational little staycation at Crown Melbourne and we still talk about it almost every day. I definitely recommend a little escape with or without the children if you are thinking about it, there is so much to do and if you don't want to do anything, well, that is just as lovely too.